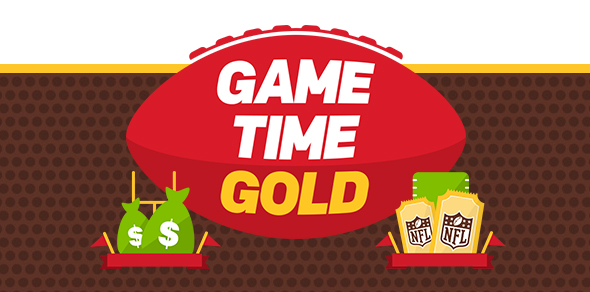 For those who remember, in the past few years, PlayatMcD.com was used to play the Monopoly Game at McDonald's. It appears there won't be any Monopoly Game at Mcdonald's this year. However, the new game, Game Time Gold at McDonald's, seems to be as fun and rewarding as the Monopoly Game was.
In this year's game, commencing on Tuesday, November 3, 2015, participants will have the chance to win $500,000 in cash every Sunday! Plus, an all-new 2016 Hyundai Tucson Sport, Xbox One consoles, trips to Super Bowl 50 and other great football prizes each week! If you are lucky enough, you could also score food prizes such as Premium Chicken sandwiches, Quarter Pounder with Cheese sandwiches, Hot Coffees and more! You could even win $50 cash prizes, instantly! All you have to do is grab a Game Piece in-store.
Must-See: 7 things you didn't know about the Game Time Gold at McDonald's
Starting on Nov. 3, you can head over to any participating McDonald's restaurants in the fifty (50) United States and District of Columbia and pick up a Game Piece with the purchase of select McDonald's menu items, including McMuffin sandwiches, Biscuit sandwiches, Hash Browns, Large Fries, Big Mac sandwiches, Filet-O-Fish sandwiches, Medium Fountain Beverages, 10-piece Chicken McNuggets and 20-piece Chicken McNuggets. Now that McDonald's is offering all day breakfast, we recommend you to get hash browns for cheaper entries. Game Pieces can be obtained until November 30, 2015.
Each Game Piece will contain either a message indicating that you have won a Prize (or not) or an NFL team helmet and a Sweepstakes Code. The code can be used to win a Sweepstakes Prize by texting it to 84567 or by submitting it at PlayatMcD.com. Once you submitted your Code, be sure to watch the NBC Sunday Night Football Game for the Lucky Team and a chance to win one of over two thousands weekly prizes!
Don't forget to get your Game Piece at your local McDonald's restaurant in November for your chance to win!