www.playatmcd.com – MONOPOLY Game at McDonald's
Enter the 2014 MONOPOLY Game at McDonald's at www.playatmcd.com for your chance to win up to $1,000,000 in cash, CESSNA private jet trips, Beaches Resorts Luxury Included Caribbean Vacations and a lot more ! Plus enter the Online Sweepstakes for a chance at $50K !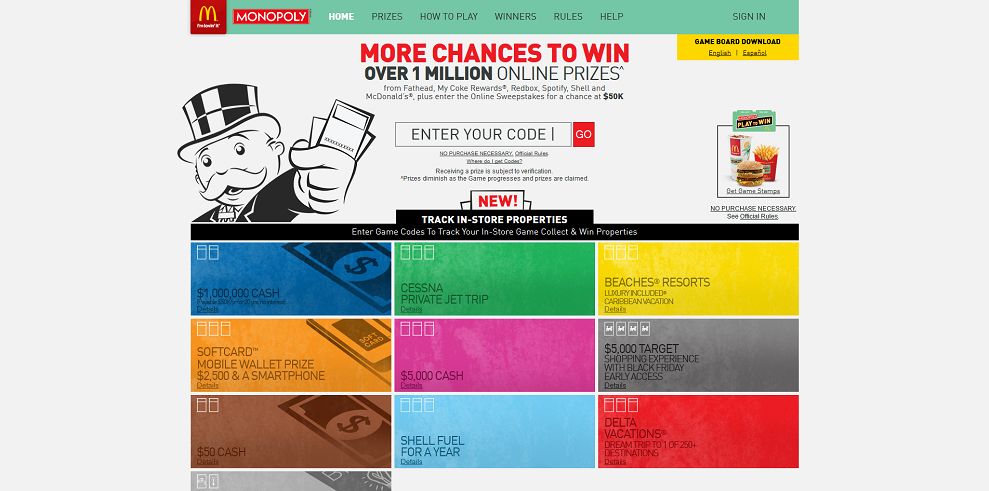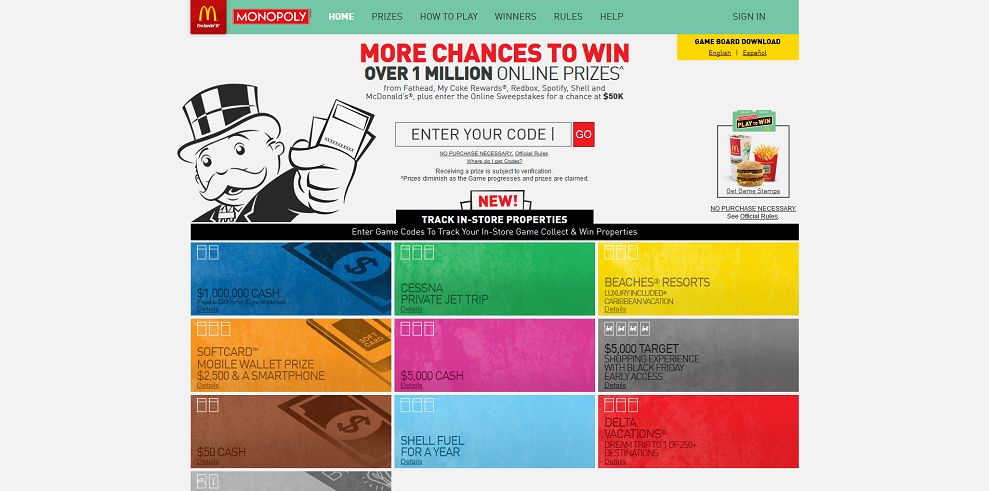 The MONOPOLY Game is back at McDonald's! Play now !
Must-See Articles:
How To Enter The Online Game or The In-Store Game
Online Game : Visit www.playatmcd.com, enter your unique 11-digit alphanumeric Game Code (which can be found on Collect & Win Game Stamps and Food Prize Game Stamps) and click "Go". If you are a registered player, simply log in using your email address and password or, if you are a new player, click on "Register". Then, follow the instructions to receive one (1) Online Game Play for a chance to win a prize from over 1 MILLION Online Game prizes available. Please note that for each valid/free Game Code entered, you will also earn one (1) Online Sweepstakes entry for the chance to win fifty thousand dollars ($50,000).
In-Store Game : Get a Game Piece (which can be found from many different McDonald's favorites with specially marked packaging) and carefully peel each Game Stamp from its backing to determine if it is an Instant Win Game Stamp (see [a] below) or part of a potential Winning Combination (see [b] below).
[a] Look at your Game Stamps to instantly see if you've won one of the millions of prizes.
[b] Collect Winning Combinations of properties, the 4 Railroads or the 2 Utilities to score amazing prizes.
Reminder
Original Game Stamps are needed to redeem prizes. DO NOT THROW THEM AWAY, even after entering Codes.
Online Game Play Limitations
A maximum of ten (10) Online Game Plays per Participant per Day will be permitted.
Please note that this limit does not include the FREE Code.
What Are The Dates Of The 2014 MONOPOLY Game at McDonald's?
The Online Game started today, at 12:00:00 a.m. EDT, 09/30/2014 and all entries must be received by 11:59:59 p.m. Eastern Standard Time on 11/10/2014.
The In-Store Game also started today, 09/30/2014. However it will run for a shorter time and conclude on 10/27/2014.
Who Can Play ?
While the In-Store Game is open only to individuals who are residents of the U.S. Territory and Canada, the Online Game is open to individuals who are residents of the U.S. Territory only and who are thirteen (13) years of age or older on the Day of Online Registration.
In-Store Prizes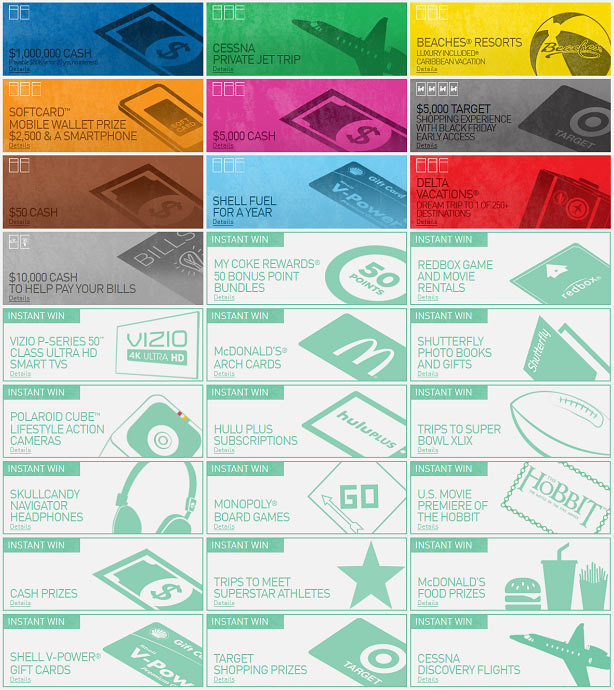 Online Prizes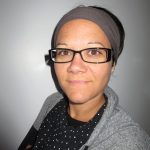 About the Author
Josee launched SweepstakesMag.com on February 2008 as a hobby and now, this is a part of her life. She carefully hand-pick all the sweepstakes to be posted on the site in order to provide you with the best ones. On top of that, she is a stay at home mom who lives in Canada and she and her husband have 4 children (7, 6, 3 and 1 year old).