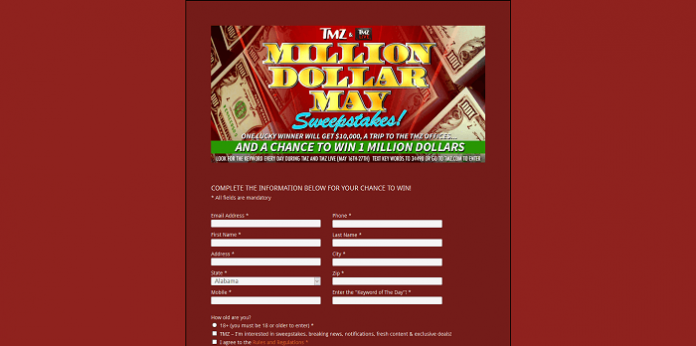 Calling all TMZ fans! It's time for the Million Dollar May Sweepstakes! Just watch TMZ Live daily between May 16th and May 27th and look for the codeword of the day. Then text or go online at TMZSweepstakes.com for your chance to win. One lucky winner will get $10,000 in cash, a trip for 2 to the TMZ offices in L.A., and a shot at $1,000,000!
Enter The TMZ Million Dollar May Sweepstakes At TMZSweepstakes.com
Beginning on May 16th, TMZ fans can watch TMZ Live and look for the keyword of the day. Viewers have the choice to enter by sending a text message containing the correct Million Dollar May keyword to 34490 or go online at TMZsweepstakes.com to submit the applicable code word of the day. Participants are also required to register for the Sweepstakes by completing the registration form. Entrants are allowed to participate up to 10 times per day, on weekdays only, throughout the Sweepstakes Period.
TMZ Code Word Of The Day
May 16, 2016: RICH
May 17, 2016: BANK
May 18, 2016: BUCKS
May 19, 2016: LOOT
May 20, 2016: CASH
May 23, 2016: GOLD
May 24, 2016: DIAMONDS
May 25, 2016: LUXURY
May 26, 2016: COIN
May 27, 2016: STACKS
The TMZ Million Dollar May Sweepstakes is open to legal residents of and physically residing in the 50 United States or the District of Columbia. Excludes Puerto Rico, Guam, American Samoa, United States territories, possessions, and protectorates, foreign based United States military installations and wherever restricted or prohibited by law. Participants must be 18 years of age or age of majority in their jurisdiction of residence at the time of entry.