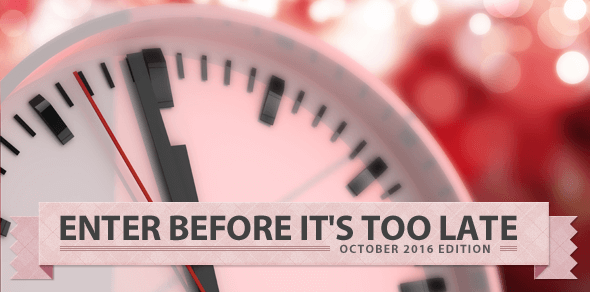 Less than a week until we'll have to say goodbye to October. Now that we are about the pass through Halloween, we can except Holiday Sweepstakes 2016 in November. Hopefully we can see great sweepstakes in the coming days.
For now, we want to provide you with our list of great Sweepstakes ending in October 2016. So many prizes to win and so few days left to enter!
Enter these Sweepstakes presented by Wheel Of Fortune, Investigation Discovery, Valpak, Hallmark, Braun, Mtn Dew, Dannon, BHG, and other great brands for a chance to win fantastic prizes.
You could win a trip to Australia, $1,000 cash, a trip to Super Bowl LI, an epic outdoor adventure, and so much more!
Sweepstakes Ending In October 2016
October 29, 2016:
October 30, 2016:
October 31, 2016:
Hurry up! These Sweepstakes are ending by the end of the month. Enter today before it's too late.