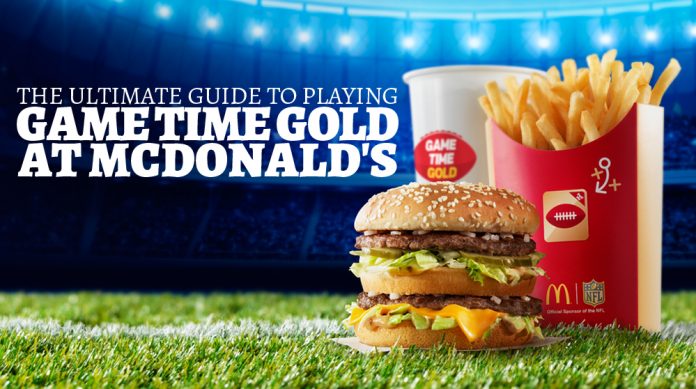 The Game Time Gold at McDonald's is a fun promotion for NFL fans. However, it's also kind of a complex promotion consisting of an in-store game, running from November 3, 2015 through November 30, 2015, and a sweepstakes, commencing on November 3, 2015 and ending on December 21, 2015, where you need to obtain a game piece on select menu items in order to win millions of prizes.
Some game pieces may reveal a food prize or non-food prize (cash) while some others might reveal an NFL helmet with a Sweepstakes Code. These Codes must be entered online at PlayAtMcD.com or can be sent via text message to be eligible to win a $500,000 weekly prize or a trip to Super Bowl 50 but first, you have to watch all the action on Sunday Night Football on NBC to find out about the Lucky Team.
Are you lost already? This is where this Ultimate Guide To Playing Game Time Gold at McDonald's come in handy!
From SweepstakesMag:
This Week's Lucky Team
November 8: PITTSBURGH
November 15: NEW ENGLAND
November 22: Check back soon!
November 29: Check back soon!
Game Time Gold TV Spots On YouTube
Ditka's New Team (Published on Oct 27, 2015 – 15 seconds)
Jerry's Flowers (Published on Oct 28, 2015 – 15 seconds)
Cowboy Jerry (Published on Nov 3, 2015 – 31 seconds)
Ditka's Audible (Published on Nov 4, 2015 – 31 seconds)
Newfound Loyalties (Published on Nov 5, 2015 – 30 seconds)
Two Point Conversion (Published on Nov 6, 2015 – 15 seconds)
Follow The Action With #GameTimeGold
Be sure to come back often as more information will be added along the way.