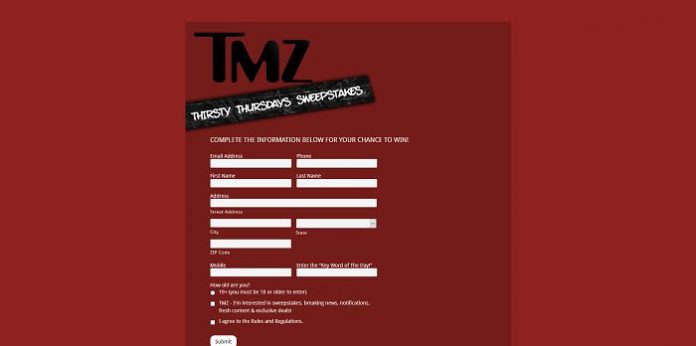 TMZ just launched the Thirsty Thursdays Sweepstakes, offering you the chance to win $500 daily prizes or the grand prize of $10,000 cash! Watching TMZ on TV has never been so rewarding!
STARTING TODAY!!! Are you THIRSTY for TMZ and better yet MONEY? Why not combine the two?! Get followed by Harvey on your…

Posted by TMZ on Friday, November 6, 2015
The more you watch, the more chances you have to win!
Play The Thirsty Thursdays Sweepstakes At TMZSweepstakes.com
Commencing on November 6, tune-in to new episodes of TMZ on weekdays and watch for the Thirsty Thursdays Code Word Of The Day that will appear on screen during the show. Then, enter it online or via text message by 11:59:59 pm (PT) on that day, as instructed below:
 Online: Go to TMZsweepstakes.com and follow the instructions to complete the entry form, including the Keyword Of The Day for that day. Once done, hit the "Submit" button to be entered into the Sweepstakes.
Text Message: Once you saw the Keyword Of The Day, send it via text message to 57005 and follow the instructions to complete your entry. You'll automatically receive one (1) Sweepstakes Entry for that day.
Regardless of method of entry, you may enter up to ten (10) times per day between Nov. 6 and Nov. 19 on weekdays only.
Looking for the Thirsty Thursdays Code Word? We'll watch TMZ for you and list the code words right here so make sure to come back often for more chances to win!
11/06: SWAG
11/09: BOSS
11/10: FAMOUS
11/11: CELEB
11/12: BLING
11/13: BEEF
11/16: STAR
11/17: BALLER
11/18: TRICKY
11/19: SEXY
In order to participate into this TMZ Sweepstakes, you must be eighteen (18) years of age (or age of majority in their jurisdiction of residence) or older and be a legal resident of any of the 50 United States or the District of Columbia.