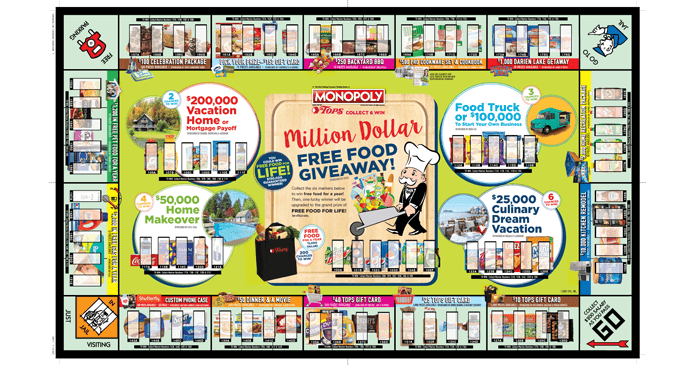 Indulge in the excitement because the Tops Markets Monopoly 2017 is here! But before you can taste sweet victory, you have to find the rare Tops Markets Monopoly pieces 2017.
Will you be lucky enough to reveal rare game pieces when you open this year's game tickets? Wondering how to know if you got a hard to find marker? This is where SweepstakesMag can help you!
We prepared a chart (see below) indicating what are the rare TOPS Monopoly pieces for 2017. Remember that certain prizes also require the collection of a semi-rare marker found inside 1 in every 5,000 game tickets. That is why you will sometimes find 2 rare pieces for a prize.
We will frequently update the chart in the first week of the game so be sure to come back to get up-to-date. Want to help us figure out the rarest pieces? Leave a comment below!
What Are The Rare Tops Monopoly Pieces In 2017?
The Tops Friendly Markets Monopoly 2017 rare pieces are as follows:
[Updated on March 29, 2017]
Prize
Rare Pieces
Common Pieces
Qantity Available
Odds with 1 ticket
$200,000 Home/Mortgage Payoff
108C, 111F
106A, 107B, 109D, 110E
2
18,000,000:1

$100,000 Food

Truck/Startup Cash

112A, 115D
113B, 114C, 116E
3
12,000,000:1

$50,000 Home Makeover

117A, 120D
118B, 119C, 121E
4
9,000,000:1
$25,000 Culinary Dream Vacation
123B, 126E
122A, 124C, 125D
6
6,000,000:1
$10,000 Kitchen Remodel
182A, 185D
183B, 184C, 186E
8
4,500,000:1
$5,000 Free Food For A Year
104E, 105F
100A, 101B, 102C, 103D
200
180,000:1
$5,000 Home Recreation Package
177A, 181E
178B, 179C, 180D
10
3,600,000:1
$2,000 In Free Gas for a Year
148B, 150D
147A, 149C, 151E
12
3,000,000:1
$1,200 In Free Pet Food For A Year
153B, 154C
152A, 155D, 156E
15
2,400,000:1
$1,000 Darien Lake Getaway
176D
173A, 174B, 175C
20
1,800,000:1
$500 Pro Cookware Set & Cookbook
171C
169A, 170B, 172D
25
1,440,000:1
$250 Backyard BBQ
165A
166B, 167C, 168D
50
720,000:1
$150 Gift Card from Gift Card Mall
162B
161A, 163C, 164D
75
480,000:1
$100 Celebration Package
159C
157A, 158B, 160D
100
360,000:1
Shutterfly Custom Phone Case
144B
143A, 145C & 146D
500
72,000:1
$50 Dinner & A Movie
141C
39A, 140B, 142D
200
180,000:1
$40 TOPS Gift Card
138D
135A, 136B, 137C
300
120,000:1
$25 TOPS Gift Card
131A
132B, 133C, 134D
1,000
36,000:1
$10 TOPS Gift Card
130D
127A, 128B, 129C
5,000
7,200:1
Odds of Winning prizes are based on getting the one Game Ticket containing the rare Game Marker, Online Game Code, Instant Winner message or Coupon.