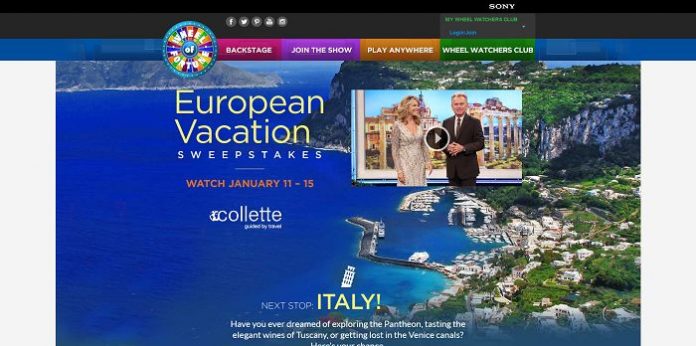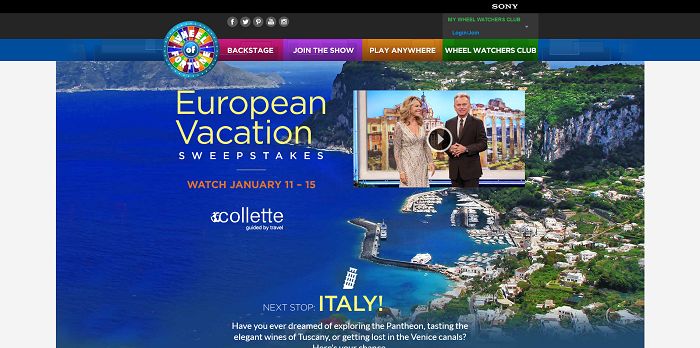 The history, the culture, and the beauty of Italy. It's the Italian vacation you've always dreamed of in the Wheel Of Fortune European Vacation Sweepstakes. All next week, five lucky viewers will win an incredible tour of Italy courtesy of Collette. Enjoy Rome, Venice, Florence, and more. All the highlights of Italy in one amazing trip.
Watch Wheel Of Fortune To Win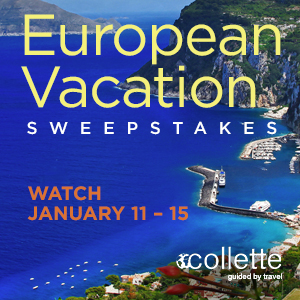 Beginning on January 11th, tune in daily to Wheel and take note of the Bonus Round Puzzle Solution. Then, go online to wheeloffortune.com to enter the Sweepstakes. As part of the entry process, you'll be required to provide you first name, last name, completing mailing address, phone number, email address, date of birth, gender, and the applicable Bonus Round Puzzle.
You will receive one (1) Entry into the Sweepstakes for each correct Bonus Round Puzzle Solution you submit, limited to a maximum of one (1) Entry per day.
Want more chances to win? If you're a registered Wheel Watchers Club member, you will earn one (1) bonus entry each time you participate. Just be sure that you're logged in prior to entering.
Not a registered Wheel Watchers Club member? Register for free or send a standard sized postcard (no larger than 5" x 7") containing your personal contact information in a postage-paid business size envelope (#10) to: European Vacation Sweepstakes Bonus Entry – Daily Sweepstakes Date (specify which date you want to be entered), P.O. Box 7719, Burbank, CA 91510.
You have until 2:59:59 p.m. PT on January 16, 2016 to participate so return after each night's show to enter again.
The WheelOfFortune.com European Vacation Sweepstakes is open only to permanent legal residents of the 50 states of the U.S., or D.C. and Canada (excluding Quebec, Guam, Puerto Rico and all other U.S. and foreign territories and possessions), who are physically located and residing therein, and who are 18 years of age or older as of January 11, 2016.
Wheel Of Fortune Sweepstakes Puzzle Solutions
January 11: OFFICE PARK
January 12: HUGE YACHT
January 13: QUITE A HAUL
January 14: HOLIDAY WREATH
January 15: PAYING IT FORWARD
Win An European Vacation
Wheel and Collette will send five lucky winners and their guests on a 13-day trip through Italy. Each Grand Prize is valued at $13,598 and includes the following:
round-trip coach-class air transportation
hotel accommodations for two (2) nights in Stresa, two (2) nights in Maiori, two (2) nights in Florence, three (3) nights in Rome, and two (2) nights in Venice.
up to eighteen (18) meals
$1,500 spending cash
Tune in next week and travel the world with Collette and Wheel Of Fortune.