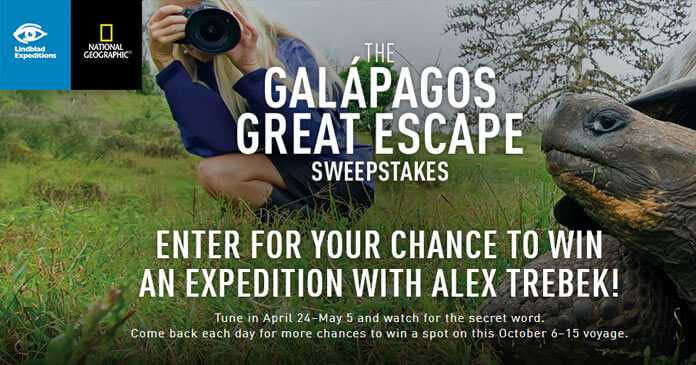 America's favorite quiz show Jeopardy and Lindblad Expeditions-National Geographic are teaming up to bring you the Galapagos Great Escape Sweepstakes and send a few lucky viewers on an expedition to the Galapagos Islands with Alex Trebek.
To enter the Sweepstakes, all you have to do is watch Jeopardy every weekday between April 24th and May 5th. Keep an eye out for the secret word then visit Jeopardy.com and input the word. Then, learn how to get even more entries each day.
Check out what's in store on the Galápagos Great Escape by watching this video.
Sweepstakes Links
Jeopardy Today's Word
| Day | Word Of The Day |
| --- | --- |
| 4/24/2017 |  TORTOISE |
| 4/25/2017 |  EXPEDITION |
| 4/26/2017 |  SEA LION |
| 4/27/2017 |  CONSERVATION |
| 4/28/2017 |  SNORKEL |
| 5/1/2017 |  IGUANA |
| 5/2/2017 |  KAYAK |
| 5/3/2017 |  BLUE-FOOTED BOOBY |
| 5/4/2017 |  WILDLIFE |
| 5/5/2017 | EXPLORE |
How To Enter
As part of the entry process for each Daily Sweepstakes, you must identify a special phrase or solution that will air during each respective first-run episode of the Show originally airing on the first day of each entry period (Monday – Friday only) between April 24, 2017 and May 5, 2017.
Then, go to the Jeopardy! website located at www.jeopardy.com and correctly input/submit the Solution from the corresponding episode of the Show in order to be entered into the applicable Daily Sweepstakes.
Here are the steps to complete to enter the Jeopardy Galapagos Great Escape Sweepstakes:
Access the Website during the relevant Sweepstakes Period.
Click on the Sweepstakes icon or text link to access the Sweepstakes entry page.
Enter today's word as directed.
Complete in full and submit your Email Address, Date of Birth, First Name, Last
Name, Home Address (no P.O. Boxes), City, State, Zip Code, and Phone Number (including area code).
You will receive one Online Entry into the Sweepstakes if you provide the correct Word Of The Day from the episode of the Show corresponding to that Daily Sweepstakes.
Online Entries must be received during the entry period for that Daily Sweepstakes (that is, between 7:00:00 a.m. PT on a given day and 6:59:59 a.m. PT the immediately following day with the exception of the April 28, 2017 Daily Sweepstakes which will end at 6:59:59 a.m. PT, May 1, 2017).
Earn Additional Entries
Additionally, you will be able to earn additional bonus entries for completing specific activities.
Earn one additional entry if you opt-in to the Jeopardy! Newsletter from the Website and one additional entry if you opt-in to the Lindblad Newsletter from the Website.
Earn one additional entry per Daily Sweepstakes by completing a "Share on Facebook" function on the submission confirmation page and one additional entry per Daily Sweepstakes by completing an "Email to a friend" function on the submission confirmation page.
Win An Expedition To The Galapagos Islands
Ten Daily Sweepstakes prizes (1 Daily Sweepstakes prize for each of the 10 Daily Sweepstakes) will be awarded during the Sweepstakes Period. Each Daily Sweepstakes prize is a trip for two consisting of:
round-trip coach-class air transportation from a major commercial airport near winner's residence to the Galapagos Islands
standard hotel accommodations for 2 nights in Ecuador
airport transfers
one cabin aboard the National Geographic Endeavour II for 7 nights
Galapagos National Park entrance fees
all designated excursions or sightseeing events offered on the expedition
all meals on board the National Geographic Endeavour II
use of shipboard equipment (including but not limited to kayaks, wetsuits, stand-up paddleboards, and snorkeling gear)
$1,000 spending money for trip for winner only (awarded in the form of a check)
One Overall Prize will be awarded. The Overall Prize winner will receive one Gift Card to Ship to Shore Traveler – Adventure Cruise Outfitter (www.shiptoshoretraveler.com).
Approximate Retail Value of each Daily Sweepstakes prize is $17,960.
ARV of Overall Prize is $200.
Jeopardy Sweepstakes Official Rules
The Galapagos Great Escape Sweepstakes is open only to permanent legal residents of the 50 states of the U.S. or D.C. (excluding Puerto Rico, Guam and all other U.S. and foreign
territories and possessions), who are physically located and residing therein, and who are 18 years of age or older as of April 24, 2017. Entrants must have either a valid social security number or a valid U.S. personal tax identification number to participate.
Begins at 7:00:00 a.m. Pacific Time on April 24, 2017 and ends at 6:59:59 a.m. Pacific Time on May 6, 2017. The Promotion consists of 10 individual and separate daily sweepstakes drawings and one overall sweepstakes.
Limit one Online Entry per email address per Daily Sweepstakes. Limit two Opt-In Entries (one per Newsletter) for the entire Sweepstakes Period. Limit two 2 Share Entries per Daily Sweepstakes (one per share function).
For each Daily Sweepstakes, one potential winner will be randomly selected from among all eligible Entries received for that particular Daily Sweepstakes in a drawing. All Daily Sweepstakes drawings will be held on or about May 19, 2017. TOTAL ARV OF ALL PRIZES is up to $179,800.
For the Winners List, send a self-addressed, stamped envelope (with proper postage affixed) to: The Galapagos Great Escape Sweepstakes "Winners List", P.O. Box 6452, Burbank, CA 91510. All requests must be received by July 6, 2017.
This Jeopardy Sweepstakes is sponsored and administrated by Enteractive Solutions Group, P.O. Box 7398, Burbank, CA 91510.