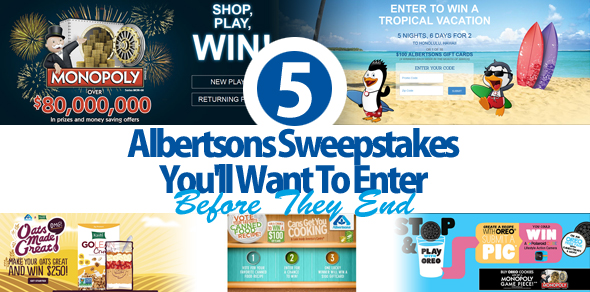 Calling all Albertsons shoppers! Your favorite grocery store has been very busy offering you great sweepstakes an incredible prizes in the first two months of the year and I'm sure they'll keep surprising you with more promotions all year long but for now, take a look at the current sweepstakes and enter them before they end!
With over $80,000,000 in prizes and discounts, this is easily the biggest sweepstakes of this list but it's also the biggest Albertsons Monopoly Game EVER! Collect your game tickets, enter codes online, and WIN!
End Date: May 19, 2015
Total ARV Of All Prizes: $82,300,614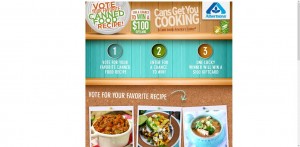 To celebrate the National Canned Food Month, Albertsons is giving away $100 Gift Cards and you could win one just by voting for your favorite canned food recipe among six (6) recipes! Easy enough, isn't it?
End Date: February 27, 2015
Total ARV Of All Prizes: $500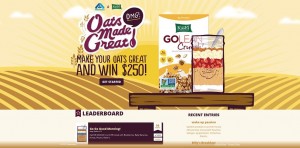 Albertsons teamed up with Kashi for this one and they invite you to create the perfect breakfast with oats. For your chance to win, your creation must have the most votes. The current leader has  1057 votes so if you have a lot of friends, try your luck and make sure they all vote from your entry!
End Date: February 27, 2015
Total ARV Of All Prizes: $1,550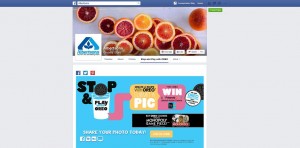 This one is on Facebook. By submitting a pic of a recipe you created with Oreo, you could win a Polaroid CUBE Lifestyle Action Camera or an Oreo Prize Pack! Plus, if you buy Oreo Cookies for your recipe at Albertsons, you'll get a Monopoly Game Piece for the Monopoly Game!
End Date: February 28, 2015
Total ARV Of All Prizes: $13,351.29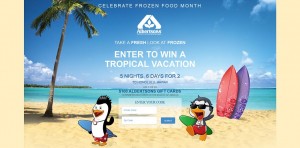 The Fresh Look At Frozen Sweepstakes is the latest sweepstakes presented by Albertsons. It started yesterday, just in time to celebrate the 32nd annual National March Frozen Food Month in 2015! To enter, purchase at least $10 worth of participating products and receive a limited time coupon at checkout. Then, go online to enter the weekly prize code printed on your coupon for a chance to win a trip to Honolulu, Hawaii!
End Date: March 24, 2015
Total ARV Of All Prizes: $5,000