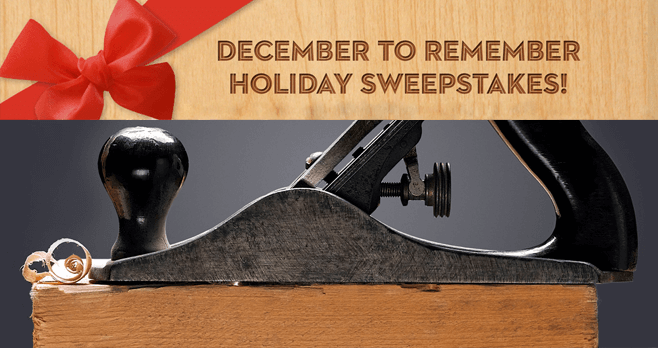 This holiday season, Popular Woodworking Magazine is giving away over $8,000 in prizes during the December To Remember Holiday Sweepstakes 2016! Visit PopularWoodworking.com/31Days each day throughout December for a new chance to win.
Plus, get a chance to win the grand prize of a JET ProShop Saw valued at $1,620. Remember to enter every day in December for more chances to win!
Popular Woodworking December To Remember Holiday Sweepstakes 2016 At A Glance
This Popular Woodworking Sweepstakes is open only to legal residents of the 50 United States, the District of Columbia and Canada (excluding Quebec) who have reached the age of majority in the participant's jurisdiction of residence at time of entry.
Begins on December 1, 2016 and ends on December 31, 2016.
Limit one entry per person per day.
Representatives of the Sponsor will conduct a random drawing to award each prize within two weeks of the Sweepstakes ending.
To receive winner's name, mail a self-addressed, stamped envelope to be received by Feb. 20, 2017, to "2016 Popular Woodworking December to Remember Sweepstakes" Winners, 8469 Blue Ash Road Suite 100, Cincinnati, OH 45236. Winner's name will be available on or about January 15, 2017.
Sponsored by F+W Media, Inc., 8469 Blue Ash Road Suite 100, Cincinnati, OH 45236.
31 Days Of Prizes
December 1st: Lee Valley Tools $100 Gift Card
December 2nd: BESSEY K-Body Revo Kit, KRK2440
December 3rd: Woodpeckers Precision Router Lift V2 (PRLV2)
December 4th: Amana Tool 8-Piece General Purpose CNC Router Bit Collection
December 5th: Arbortech TURBOShaft
December 6th: RIKON Oscillating Spindle Sander
December 7th: Triton Tools Biscuit Joiner TBJ001
December 8th: Woodpeckers Drill Press Table
December 9th: Kreg Jig K5 Master System
December 10th: JessEm Tool Company Clear Cut Stock Guides
December 11th: MPOWER CRB7MK3 Bundle
December 12th: Horizon Wood Products Cherry Slab
December 13th: Arbortech Mini-Grinder
December 14th: Knew Concepts Coping Saw
December 15th: Woodpeckers 12″, 8″ and 6″ squares
December 16th: Leigh Industries NEW RTJ400 Jig
December 17th: Titebond III Ultimate Wood Glue
December 18th: Oneida Air Systems Dust Deputy Deluxe
December 19th: Klingspor Woodworking Shop $100.00 Gift Card
December 20th: Rikon Tools 8″ Wet Sharpener
December 21st: Trend Routing Technology, Inc. — 8" x 3" Double-Sided Diamond Bench Stone (DWS/CP8/FC)
December 22nd: Woodworker II 10×30 Ripping Saw Blade (WW10307125)
December 23rd: Work Sharp Woodworking Tool Sharpener 3000
December 24th: Steve Wall Lumber 20 Bd. Ft. of Ambrosia Maple
December 25th: Mirka DEROS Dust-Free Sanding System (includes: Mirka DEROS 5" Brushless DC Sander, MV-912 Dust Extractor, MIN6519411 4m Vacuum Hose)
December 26th: Arbortech's TURBOPlane blade
December 27th: Blue Spruce Toolworks Marking Knife System
December 28th: Woodpeckers Mini-Scraper
December 29th: DMT 10-in. DuoSharp Bench Stone with base -W250EF-WB
December 30th: Woodline Cabinet Door Package
December 31st: JET ProShop Saw 708494K
How To Enter Now At PopularWoodworking.com/31Days
To enter, go to http://www.popularwoodworking.com/31days and access the Sweepstakes entry form. Complete the required information and submit your entry. There is a different prize each day; only entrants from that 24-hour period (Central Time Zone) will be considered for that day's prize. Limit one entry per person per day. The Sweepstakes uses a refer-a-friend system. You get 1 extra entries each day for each person who enters the Sweepstakes from your link (three bonus entries maximum per day). All entrants are entered into the drawing for the Dec. 31 Grand Prize, along with entrants from that day alone.
For more information on the Popular Woodworking December To Remember Holiday Sweepstakes 2016, including official rules, visit www.popularwoodworking.com/31days now!