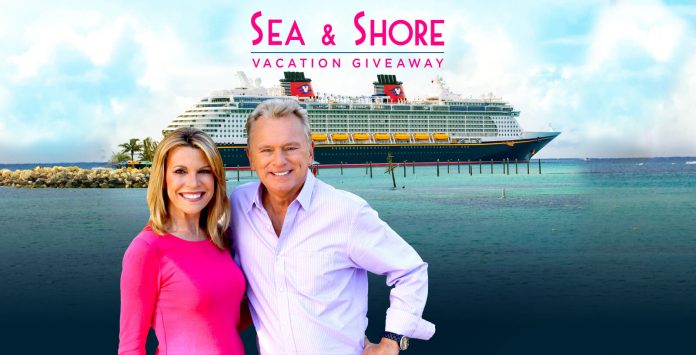 Wheel Of Fortune Disney Sea & Shore Sweepstakes is back with a chance to win a Disney Cruise to the Bahamas. That's the vacation you and your family always dreamed on.
Starting on Monday, January 8, watch Wheel each night and take note of the Bonus Round Puzzle Solution. Then go to WheelOfFortune.com right after the show to enter the puzzle for your chance to win.
In order to receive an entry into the sweepstakes, you must provide the correct Bonus Round Puzzle Solution for the applicable daily sweepstakes and you have until 2:59:59 p.m. PT the next day to enter each daily sweepstakes.
Also, be sure to be logged in to the Wheel Watchers Club to receive one additional sweepstakes entry. Not a registered Wheel Watchers Club member yet? Join the Wheel Watchers Club for free then log into your account to receive your extra entry.
What Are The Bonus Round Puzzle Solutions?
Missed a Bonus Round Puzzle Solution or can't watch Wheel Of Fortune? Don't worry, we will post all puzzle solutions below for you.
January 8: MATH WORKBOOK
January 9: HANDPICKED AVOCADO
January 10: JOIN OUR GROUP
January 11: UPSCALE BOUTIQUE
January 12: FILM CLIP
What You Need To Know About This Sweepstakes?
Eligibility: The Wheel Of Fortune Disney Sea & Shore Sweepstakes 2018 is open only to permanent legal residents of the 50 states of the U.S., or D.C. (excluding Guam, Puerto Rico and all other U.S. and foreign territories and possessions), who are currently physically located and residing therein, and who are 18 years of age or older as of January 8, 2018.
Sweepstakes Period: This Sweepstakes begins at 3:00:00 p.m. PT on January 8, 2018 and ends at 2:59:59 p.m. PT on January 13, 2018.
Limit: Limit one Entry and one Bonus Entry per person/email address per daily sweepstakes.
Grand Prize (5): The prize consists of a trip for the daily sweepstakes prize winner and up to three (3) guests to the Bahamas.
Overall Prize (1): One (1) Wheel of Fortune Bathrobe (ARV: $80); one (1) Sherpa Blanket (ARV $50); one (1) Sheldon Bobblehead (ARV: $20); one (1) Wheel of Fortune Baseball Cap (ARV: $20); Pat & Vanna Talking Key Chains (one (1) pair) (ARV: $10); one (1) Wheel of Fortune aluminum water bottle (ARV: $10); one (1) Wheel of Fortune Travel Mug (ARV: $10); one (1) Wheel of Fortune Playing Cards Deck (ARV: $5); one (1) Wheel of Fortune Grocery Tote (ARV: $5); one (1) Wheel of Fortune Flashlight Key Ring (ARV: $4); and one (1) Wheel of Fortune Pen (ARV: $2).
Winner's List: For the Winners List, send a self-addressed, stamped envelope (with proper postage affixed) to: Wheel of Fortune Family Vacation Giveaway Winners List, P.O. Box 6735, Burbank, CA 91510.
Sponsor: Quadra Productions, Inc., 10202 West Washington Boulevard, Culver City, CA 90232.
For more information on the David's Prom Sweepstakes & Instant Win Game, including official rules, visit https://www.wheeloffortune.com/so-many-ways-to-play/enter-sweepstakes/sea-shore/ now!