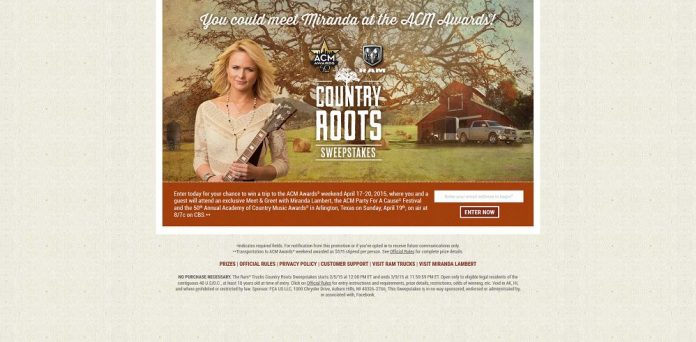 The critically acclaimed singer/songwriter received not less than eight (8) nominations for the 50th Academy of Country Music Awards and to celebrate, her 2015 Certified Platinum Tour partner Ram Trucks is giving you the chance to meet her at the ACM Awards weekend April 17-20, 2015 in the Ram Trucks Country Roots Sweepstakes!
See the official sweepstakes announcement below:
The prize consists of a trip to attend the 50th Annual ACM Awards weekend April 17-20, 2015 in Arlington, Texas (airfare and hotel accommodations at the Renaissance Hotel included) where you and a guest of your choice will have the opportunity to attend an exclusive RAM Meet & Greet with Miranda Lambert at the ACM Party for a Cause Festival. You will also have the chance to attend the 50th Annual Academy of Country Music Awards that will take place at AT&T Stadium on Sunday, April 19th, 2015.
Must-See Sweepstakes: Ram Trucks #RootsWingsRAM Photo Contest
To enter, visit either ACMAMiranda.com or ramtrucks.com/acma and access the sweepstakes entry form by entering your email address. Then, complete and submit the entry form to be registered and receive one sweepstakes entry.  For an additional chance to win, click the link provided on the "Thank You" page to watch the exclusive "Roots and Wings" video playing during Miranda Lambert's Certified Platinum Tour.
You will be limited to a maximum of two (2) sweepstakes entry (one for registering and one for watch the video) during the entire sweepstakes period ending at 11:59:59 P.M. ET on March 9, 2015.
Please note that only legal residents of the contiguous forty-eight (48) U.S. States and the District of Columbia who are eighteen (18) years and older at the time of entry are eligible to participate in this sweepstakes.
Watch the Roots and Wings Ram Trucks Commercial below:
And don't miss Miranda's performance at the 57th Annual GRAMMY Awards this Sunday!