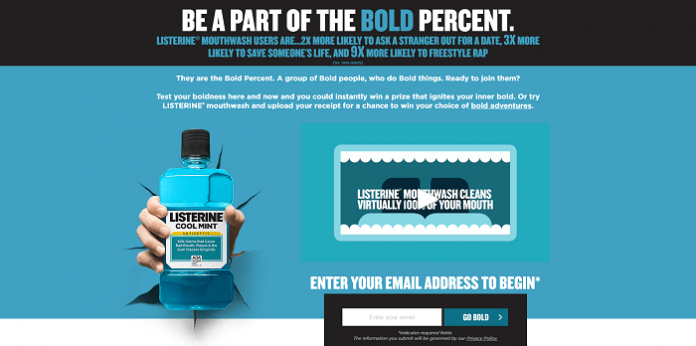 Want to join the Bold Percent? But are you ready to be a part of the Bold Percent? Test your boldness at boldpercent.com and be automatically entered into the LISTERINE Bold Percent Sweepstakes & Instant Win Game.
You could instantly win great prizes such as a Smart Fitness Watch, On-Ear Premium Headphones, Wireless Portable Speakers and more. Plus, you could score bold adventures in the destination of your choice! The more you play, the bolder the adventures get! Go bold at boldpercent.com now!
Go Bold At BoldPercent.com
During the Promotion Period, participants are invited to participate in various activities to obtain Activity Credits, Sweepstakes entries, and Game Plays. Enter your email address at boldpercent.com to begin. Then, register by completing and submitting the online entry form so you can be contacted you if you win.
Finally, you will be offered the opportunity to either take the quiz for a chance to win instantly win a prize that helps ignite your inner boldness or upload a receipt and be entered for a chance to win the adventure of your choice in the Join the Bold Percent Sweepstakes.
Additionally, you may earn bonus entries by signing up to receive newsletters from LISTERINE, sharing the promotion with your friends on Twitter or Facebook, and more fun activities.
Participating LISTERINE Products
If you want to earn 50 Sweepstakes Entries, you must upload a receipt showing the purchase of any of the following participating LISTERINE products.
LISTERINE ANTISEPTIC mouthwash (500mL and up)
LISTERINE TOTAL CARE Anticavity Mouthwash (500 mL and up)
LISTERINE FLOURIDE DEFENSE Anticavity Mouthwash (500mL and up)
LISTERINE ULTRACLEAN Antiseptic mouthwash (500ml and up)
LISTERINE NATURALS (500ml and up)
LISTERINE ZERO mouthwash (500mL and up)
LISTERINE HEALTHY WHITE Anticavity Mouthrinse (473 ml and up)
LISTERINE SMART RINSE or LISTERINE SMART RINSE (500 ml)
LISTERINE Fluoride Anticavity Toothpaste (4.2 oz)
LISTERINE Floss (30 yards and up)
JOHNSON & JOHNSON REACH Floss/Tape (55 yards and up)
LISTERINE POCKETPAKS 72 ct.
LISTERINE POCKETMIST 2ct
What You Can Win
Here is a complete list of prizes you can win if you enter the LISTERINE Bold Percent Sweepstakes & Instant Win Game.
Game Prizes
LISTERINE POCKETPAKS (72 ct) (285 winners)
$15 online retailer gift card (75 winners)
$30 online retailer gift card (20 winners)
Grand Trunk Portable Hammock (10 winners)
Personal Action Video Recording Device (1 winner)
Smart Fitness Watch (1 winner)
On-Ear Premium Headphones (3 winners)
Wireless Portable Speaker (2 winners)
Stainless Steel Wearable Multitool (1 winner)
Each game prize winner will also receive a LISTERINE branded t-shirt, water pouch, and glow bracelet.
Prize Level 1 Prizes
Capture the Moment Pack: A personal action video recording device, an instant camera, a photography travel backpack, a mini pocket drone, a 32 GB memory card, and a camera lens for a smartphone.
Outdoor Adventure Pack: A stainless steel wearable multitool, a Grand Trunk portable nylon hammock, a nylon daypack, a camping stove, a firemaking kit, and a solar-compatible portable recharger.
Tropical On-The-Go Pack: A ukulele bundle, a pair of aviator sunglasses, a cooler backpack, two (2) drink holders, a drink mixer multitool, a frisbee, and a portable waterproof portable speaker.
Bold Fitness Pack: A smart fitness watch, a 36 ounce water bottle, a sport backpack, a set of resistance bands, a set of resistance loop bands, a jump rope, and a pair of sweat bands.
Music On-The-Go Pack: A pair of on-ear premium headphones, a wireless portable speaker, a DJ gear backpack, a set of bongos, a harmonica, and a kazoo.
Prize Level 2 Prizes
Backyard Bold Adventure Experience such as hot air ballooning, driving on a racetrack, music lessons, performing on stage at a local theater, etc.
Prize Level 3 Prize
Bold Trip Experience: A 5-day, 4-night trip for 2 to winner's choice of Denali, Alaska; The Big Island, Hawaii; New Orleans, Louisiana; Sydney, Australia; Victoria Falls, Zambia; or Pamplona and Northern Spain.
LISTERINE Bold Percent Sweepstakes & Instant Win Game Details
The LISTERINE Bold Percent Sweepstakes & Instant Win Game is offered only to legal residents of the 50 United States and the District of Columbia. In order to be eligible to win, participants must be at least 18 years old at the time of entry.
Participants may enter play the game once per day throughout the Promotion Period. In addition, each game play will result in one Activity Credit and one Sweepstakes Entry.
On or about December 19, 2016, a random drawing will be held to select the prize winners from among all the eligible entries received during the Promotion Period. The total approximate retail value of all prizes available in the Promotion is up to $40,671.
The Promotion is sponsored by Johnson & Johnson Consumer Inc. and is administered by Prize Logic.
For more information on the LISTERINE Bold Percent Sweepstakes & Instant Win Game, including official rules, visit www.boldpercent.com now!