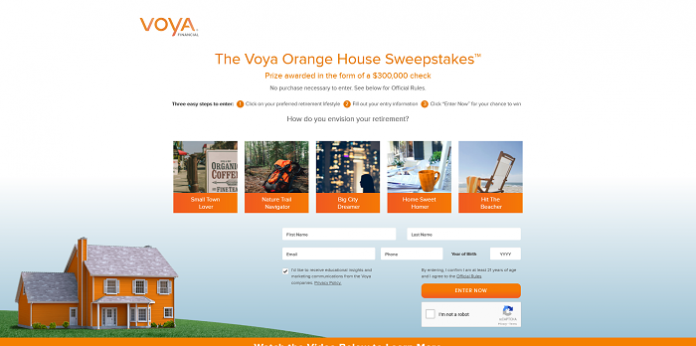 All this month, Voya Financial is running the Voya Orange House Sweepstakes 2016. They painted a house orange and you could win it. Where will it be? Now that's up to you and how you see your retirement.
Maybe you are a big city dreamer, the type that wants to live in a bustling city full of events and places to dine out. You could be a hit the beacher, having time to play in the sand and spend your days in the sun could be your thing. Maybe you're a small town lover! Life in a tight-knit community with local festivals and fourth of July parades could be for you. Then there's the nature trail navigator, the hike a mountain explore some nature and jump in a creek type. Or maybe you're a home sweet homer. Home is where your heart is and there's no better place for you to retire then right where you are.
Voya Financial believes retirement is for everyone and with the right planning or organization, they can help you get there. Enter now at Voya.com/OrangeHouse for your chance to win.
Enter To Win At Voya.com/OrangeHouse
From now through April 24th, Voya invites you to enter the Voya Orange House Sweepstakes 2016 at Voya.com/OrangeHouse by completing these 3 following steps:
Select your preferred retirement lifestyle among the 5 choices provided on the Sweepstakes website.
Register for the Sweepstakes by completing the official entry form.
Click "Enter Now" for your chance to win.
You can complete these easy steps once per day, so make sure to return daily to increase your chances of winning. All entries must be complete and received by 11:59:59 p.m. ET on April 24, 2016 to be eligible for the Grand Prize Drawing.
Voya Orange House Sweepstakes Winner
The potential Grand Prize Winner will be selected during a random drawing to be held on or around April 25, 2016 and will be contacted by phone or email.
The Voya Orange House Sweepstakes Winner will receive a check in the amount of $300,000, which can be used towards the purchase of a home, plus a Voya Financial Planning session.
To request the name of the winner, you can send a self-addressed, stamped envelope to: Winners List Request, Voya Orange House Sweepstakes, c/o The Marketing Arm, 1999 Bryan Street, Suite 1800, Dallas, TX 75201. Requests must be received by no later than July 15, 2016.
Eligibility
The Voya Orange House Sweepstakes 2016 is open to legal residents of the 50 United States and the District of Columbia who are at least 21 years of age or older at the time of entry.