The Racing2Riches Game is back at Price Chooper. Play in-store and online at Racing2Riches.com for your chance at more than $5,000,000 in prizes and discounts, including a $100,000 guaranteed winner in the final week. Back in January 2016, Price Chopper also ran the Bags2Riches Giveway where you could win from $8,000,000 in prizes. This year again, they are running the Racing 2 Riches Game and you don't want to miss it!
Play The Racing 2 Riches Game At Racing2Riches.com
Beginning on June 21st, visit your local PriceChopper store and receive a Racing2Riches game ticket with every $25 purchase using your AdvantEdge Card through September 5th. To get more game tickets, simply increase the amount of your purchase as follow:
$25.00 to $49.99: 1 game ticket.
$50.00 to $74.99: 2 game tickets.
$75.00 to $99.99: 3 game tickets.
And so on!
However, you are allowed to receive a maximum of 12 Game tickets per day, regardless of the total value of your purchase transaction. Once you obtained your game ticket(s), carefully open it to reveal a Race Winner and a PIN, an 8-digit alpha-numeric code. Use this code to enter the Online Sweepstakes at Racing2Riches.com for a chance to win daily $50 cash prizes or $10,000 weekly grand prizes. Follow the instructions to register on the website and enter up to 25 PINs per day to increase your chances of winning.
Racing 2 Riches Race Results
Each week, on Sundays at 8:00 AM, watch a race online at racing2riches.com to find out if you're a lucky winner when the racing 2 riches results are announced. If the Race Winner from your game ticket matches the horse that won the race, you win the prize indicated. Select game tickets may reveal up to 3 Race Winners and numbers. If you match the horses and order, you win a bigger prize. It's that easy!
If you're a winner, you can redeem your prize at Racing2RichesRedeem.com. Prizes includes $1,000 Cash, $10,000 Cash, Free Gas for a Year plus, $100,000 Cash in the final week.
Check out the complete Race Schedule below: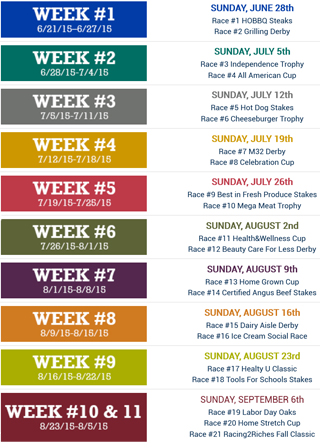 The Price Chopper Racing 2 Riches Game is open to individuals who have reached the age of majority as of the Game Start Date and who are legal residents of the following states: Connecticut, Massachusetts, New Hampshire, New Jersey, New York, Pennsylvania, Rhode Island, and Vermont. For more information on the Racing 2 Riches Game, including official rules, visit www.Racing2Riches.com now!