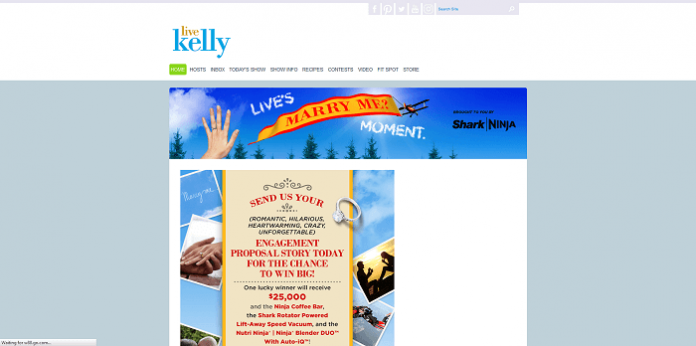 Here's a big news for Live With Kelly fans! A new contest called Live's Marry Me? Moment. Whether it was romantic, hilarious, heartwarming, crazy or unforgettable, send in your engagement proposal story today for your chance to win big. Live With Kelly partnered with Shark Ninja to bring you this Contest and your story could win you $25,000. Plus, you could also win a Ninja Coffee Bar, a Shark Rotator Powered Lift-Away Speed Vacuum, and the Nutri Ninja.
To participate, just go online to LiveKelly.com or on Live With Kelly's Facebook page at Facebook.com/LiveKelly between June 3rd and June 11th.
Do You Have A Marry Me Moments?
Think you have a winning proposal story? For your chance to win, visit LiveKelly.com or go to the LIVE with Kelly Facebook Page and register for the Contest. Write a short description of your proposal story and submit your entry to be entered into the Contest. You can also include a picture or video. All submission received will be judged based on Creativity (50%), Execution (30%) and Clarity (20%) so make it count!
More About The Live's Marry Me? Moment Contest
The LIVE's Marry Me? Moments Contest is only open to persons who are legal residents of the 50 states of the U.S., the District of Columbia, and Canada (excluding the province of Quebec) who are 18 years of age or older as of the date of entry. For more information on the LIVE's Marry Me? Moments Contest, including official rules, visit livekelly.com/marry-me-moment/contest/ now!