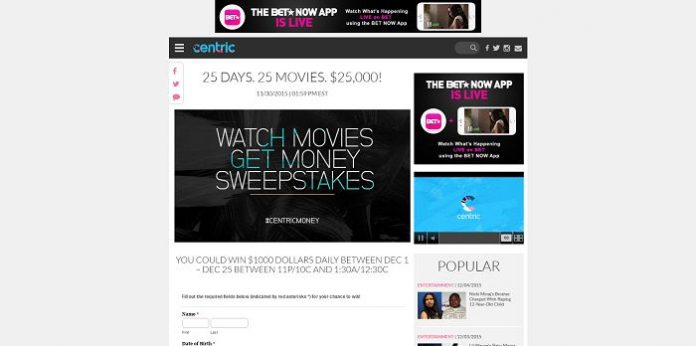 Watch movies and get cash. Think it possible? Centric, the first network designed for black women, is giving away $25,000 in 25 days throughout December. All you have to do is watch movies and enter at centrictv.com/moviecash
A chance to win money just by watching movies? That's right! Each and every night, viewers are invited to tune in to Centric and look for the Code Words then enter online for a chance to win $1,000 cash!
Watch Movies, Get Money Sweepstakes starts today, a chance to win $1,000 a day! https://t.co/0cQUnfYqet pic.twitter.com/b7hhAHsw46

— CENTRIC TV (@CENTRICTV) December 1, 2015
The Watch Movies Get Money Sweepstakes started last Tuesday at 11p/10c and will continue until December 25th so watch daily for more chances to win!
Enter The Code Words At Centrictv.com/MovieCash
Each day between 11:00 p.m. ET and 1:30 a.m. ET, tune in to Centric and take note of the four (4) daily Code Words that will be revealed during the shows airing on that night.
Can't watch Centric at that time of the day or simply missed them? Come back here every day during the Promotion Period to the latest Code Words.
December 25:
WINNING
DANCE
FESTIVE
WISDOM
Once you obtained all codes, visit centrictv.com/moviecash to register for the Sweepstakes by providing all requested information including the four code words. Each valid entry will result in a chance to win a daily $1,000 cash prize. Please note that your entry must be received between 11:00 p.m. ET and 12 p.m. ET on the following day to be eligible.
The Watch Movies Get Money Sweepstakes will run from December 1 to December 26 and is open only to legal residents of the fifty (50) United States and the District of Columbia (excluding Puerto Rico, the U.S. Virgin Islands, and other commonwealths, territories and possessions) who are 18 years of age or older as of December 1, 2015.
Are you the next winner?