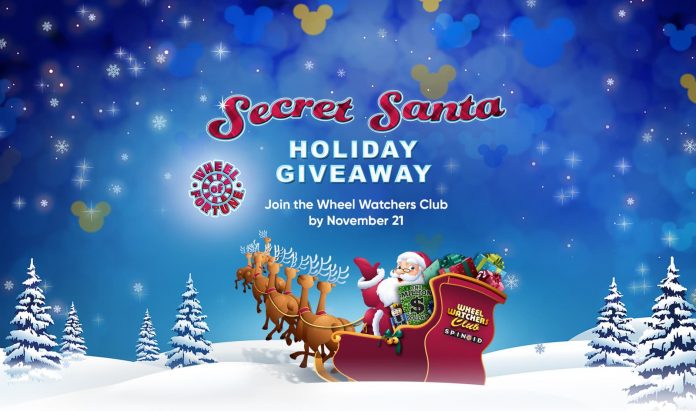 Secret Santa Wheel Of Fortune: Your favorite holiday giveaway is back. It's the Wheel Of Fortune Secret Santa 2021 from Wheel. Do you have the winning SPIN ID number?
How The Wheel Of Fortune Secret Santa Sign Up Works: Join the Wheel Watchers Club by November 21st and you could have your own Secret Santa. Get your free SPIN ID now at WheelOfFortune.com and in December, whatever your Secret Santa wins, you win it too. With so many gifts from your Secret Santa, you'll have to bring the sleigh.
Wheel Of Fortune Spin ID Numbers: Here is the complete list of Wheel Of Fortune Spin ID winners for the Secret Santa Sweepstakes.
Day
Wheel Spin ID Number #1
Wheel Spin ID Number #2
Wheel Spin ID Number #3
December 6, 2021
TR2656949
Theresa R.
RM9388568
Robert M.
DK4952969
Darlene K.
December 7, 2021
RT1138272
Ramona T.
WL4383089
William L.
DE2166689
Donalee E.
December 8, 2021
SC3840515
Shireen C.
PB5081262
Priscilla B.
RS3358980
Ruby S.
December 9, 2021
NN1696809
Nancy N.
RM12590
Randy M.
JH3765486
Jeremy H.
December 10, 2021
SP7798182
Sarah P.
SD4112499
Shelley D.
AR8063145
Abigail R.
December 13, 2021
KC6331092
Kim L.
TP4964410
Taylor P.
RV3880051
Raul V.
December 14, 2021
NS9257284
Nancy S.
BS6873426
Betty J. S.
EL1312335
Eleanor L.
December 15, 2021
EA4474056
Eileen A.
MG2012945
Mary Ellen G.
CS0686575
Charles S.
December 16, 2021
JS5737395
Joan S.
RM1367645
Regina M.
SW1816303
Sharon W.
December 17, 2021
Here's what to know about Wheel Of Fortune Secret Santa Holiday Giveaway 2021.
This Wheel Of Fortune Giveaway is open only to permanent legal residents of the fifty (50) states of the U.S. and D.C. and Canada (excluding Quebec, Guam, Puerto Rico, and all other U.S. foreign territories and possessions) who are currently physically located and residing therein, who are of the age of majority in the jurisdiction in which he/she resides as of November 19, 2021, and who are registered and active Wheel Watchers Club members.
The Sweepstakes begins on December 6, 2021 and ends on December 17, 2021.
Total ARV of all prizes is up to $1,200,000.00 U.S.D.
Enter At wheeloffortune.com | Official Rules | Follow Us On Facebook