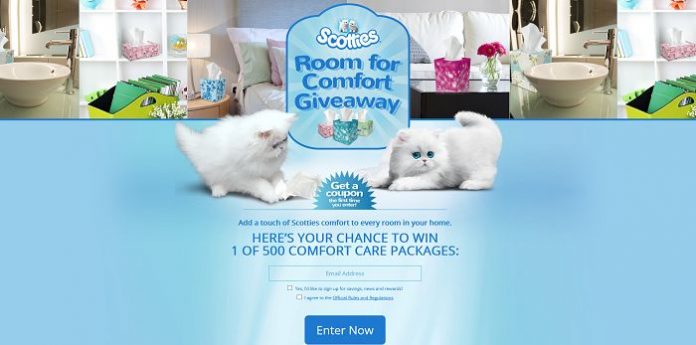 Providing everyday comfort can be a challenge and you may need a little help. You can't be everywhere at once but the comfort of Scotties can be! From the office to the living room to the bedroom. With Scotties facial tissues you can always be ready. Give comfort, get Scotties!
Each day between April 14, 2015 and May 5, 2015, visit scottiespromotions.com/roomforcomfort to enter the giveaway. If it's the first time entering, you'll be required to fill out a short entry form by providing your first name, last name, address, city, state, zip code, phone number and date of birth. Next time you visit, you'll just need to use your email address.
Upon completing the entry process, you'll be automatically entered for a chance to win. Be sure to return each day to increase your chances of winning.
On the Thank You page, you'll be encourage to share the Room for Comfort Giveaway on Facebook in order to receive ten (10) additional entries into the grand prize drawing. We recommend you to share it (one time only) to improve your chances of winning.
The Sweepstakes is open to legal residents of and currently residing within, the 50 United States and the District of Columbia, who are 18 years of age or older at time of entry.
Giveaway Prizes (500)
Each of the 500 grand prize winner will receive a Scotties Care Package worth $12.00 and including the following items:
one (1) 60-count cube box,
one (1) 60-count cube box with aloe,
one (1) 70-count cube box,
one (1) 100-count cube box,
one (1) 120-count box,
one (1) 200-count box,
one (1) 250-count box.