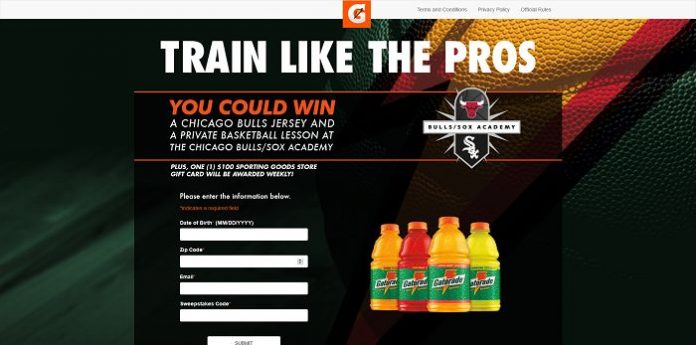 Calling all Jewel-Osco shoppers! The Monopoly Game may still be running until May 19th, it won't prevent your favorite grocery store to launch a new promotion along the way!
Now through May 25th, buy ten (10) or more Gatorade 32 oz. bottles and get a code on your Catalina coupon printout to enter the Gatorade Be Like Mike Sweepstakes! Enter this code at GoTrainLikeThePros.com and you could be 1 of 5 grand prize winners who will get to train like the pros at the Bulls/Sox Academy in Lisle, Illinois! Each grand prize winner will also receive a Chicago Bulls jersey. Plus, Jewel-Osco will award one (1) $100 sporting goods store gift card per week for nine (9) weeks!
Are you ready to train like the pros? Visit your local Jewel-Osco store today to get started!
Buy. Get. Enter!
Buy ten (10) or more Gatorade Thirst Quencher 32 oz. bottles in a single transaction at any participating Jewel-Osco store between March 25 and May 25, 2015. You will automatically get a Sweepstakes Code, consisting of a unique 10-digit code, on Catalina coupon printout along with your purchase receipt. Enter this code online at GoTrainLikeThePros.com, along with your date of birth, zip code and email address, to receive one (1) entry into both the applicable Entry Period and the Grand Prize drawing.
Don't want to make a purchase? Simply hand print your information such as your full name, complete mailing address, phone number and date of birth on a 3″ x 5″ card and mail it in an envelope to: Gatorade Be Like Mike Sweepstakes at Jewel, PO Box 1009, Young America, MN 55594-1009.
Participation is limited to a maximum of one (1) time per day, regardless of entry method.
This Sweepstakes, which consists of nine (9) Entry Periods, started at 12:00 a.m. CT on Wednesday, March 25, 2015 and is set to conclude at 11:59 p.m. CT on Monday, May 25, 2015. All entries must be completed and received by no later than 11:59 p.m. CT on Monday, May 25, 2015 to be eligible.
Eligibility
Participation into the Gatorade Be Like Mike Sweepstakes at Jewel-Osco is open only to legal residents of Illinois, Indiana, and Iowa, who are 18 years of age or older as of March 25, 2015.