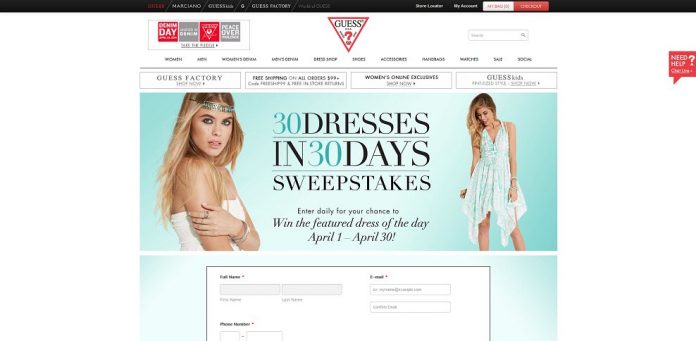 How To Enter : During the Promotion Period, visit GUESS.com/GetDressed/Sweeps. (the "Website") and follow the links and instructions to complete and submit the entry form with all required information.
Eligibility : GUESS "30 Dresses in 30 Days" Sweepstakes (the "Sweepstakes") is open only to individuals who are legal residents of and physically located in one (1) of the fifty (50) United States (or the District of Columbia) or Canada (excluding Quebec), who are at least sixteen (16) years old at the time of entry.
Timing : The Sweepstakes begins on or about 12:00 a.m. Pacific Time ("PT") on April 1, 2014 and ends at 11:59 p.m. PT on April 30, 2014 (the "Promotion Period").
Limit : Each participant may enter one (1) time per day during the Promotion Period.
Prize (s) :
| | | | | | |
| --- | --- | --- | --- | --- | --- |
| Day | Date | Prize Name | Style Number | ARV (USD) | Number of Prizes Awarded; |
| 1 | 4/1/2014 | BINKY MIRROR FLORAL-PRINT BODY-CON DRESS | W42K54K2SD0 | $98 | 1 |
| 2 | 4/2/2014 | CRINKLE FLORAL LACE DRESS | W41K78K2US0 | $98 | 1 |
| 3 | 4/3/2014 | TWISTED TILE TANK DRESS | W42K61W3IZ0 | $108 | 1 |
| 4 | 4/4/2014 | JULIA DRESS | W41K61W0V60 | $98 | 1 |
| 5 | 4/5/2014 | RUFFLE DRESS | W4FK0OK2Q40 | $98 | 1 |
| 6 | 4/6/2014 | MONACO BODYCON DRESS | W42K79K2ZO0 | $98 | 1 |
| 7 | 4/7/2014 | CRINKLE FLORAL LACE DRESS | W41K78K2US0 | $98 | 1 |
| 8 | 4/8/2014 | BEACH PARTY NIGHT DRESS | W42K99W3IZ0 | $118 | 1 |
| 9 | 4/9/2014 | STAR STUDDED MAXI DRESS | W4FK97K31U0 | $89 | 1 |
| 10 | 4/10/2014 | FLORAL PRINTED LACE DRESS | W4FK48W55R0 | $98 | 1 |
| 11 | 4/11/2014 | LINEAR DOT LACE DRESS | W41K66K2TZ1 | $98 | 1 |
| 12 | 4/12/2014 | MIRAGE CUT-OUT DRESS | W41K0IZ0HR0 | $138 | 1 |
| 13 | 4/13/2014 | STUDDED-YOKE CUT OUT DRESS | W3FK96W55R0 | $108 | 1 |
| 14 | 4/14/2014 | EYELET MINI DRESS | W41K84W3IX1 | $108 | 1 |
| 15 | 4/15/2014 | TWISTED TANK DRESS | W42K78W3IZ0 | $108 | 1 |
| 16 | 4/16/2014 | EYELET MINI DRESS | W41K84W3IX1 | $108 | 1 |
| 17 | 4/17/2014 | MIRAGE CUT-OUT DRESS | W41K0IZ0HR0 | $138 | 1 |
| 18 | 4/18/2014 | SCUBA PEPLUM DRESS | W3FK67K2EK1 | $98 | 1 |
| 19 | 4/19/2014 | STUDDED-YOKE CUT OUT DRESS | W3FK96W55R0 | $108 | 1 |
| 20 | 4/20/2014 | LINEAR DOT LACE DRESS | W41K66K2TZ1 | $98 | 1 |
| 21 | 4/21/2014 | MONACO BODYCON DRESS | W42K79K2ZO0 | $98 | 1 |
| 22 | 4/22/2014 | SMOCKED TUBE DRESS | W4FK0FW20G0 | $118 | 1 |
| 23 | 4/23/2014 | SCUBA PEPLUM DRESS | W3FK67K2EK1 | $98 | 1 |
| 24 | 4/24/2014 | TWISTED MOROCCAN TANK DRESS | W42K45W3IZ0 | $108 | 1 |
| 25 | 4/25/2014 | MIRAGE CUT-OUT DRESS | W41K0IZ0HR0 | $138 | 1 |
| 26 | 4/26/2014 | STRAPLESS MARBLE GAUZY MAXI DRESS | W42K38K2Z10 | $118 | 1 |
| 27 | 4/27/2014 | OPEN BACK CHAIN DRESS | W42K95K2ZI0 | $89 | 1 |
| 28 | 4/28/2014 | PINTUCK DRESS | W42K94W3IZ1 | $98 | 1 |
| 29 | 4/29/2014 | MONACO BODYCON DRESS | W42K79K2ZO0 | $98 | 1 |
| 30 | 4/30/2014 | SMOCKED TUBE DRESS | W42K42W3IZ0 | $118 | 1 |
Total ARV of all prizes : $3,192