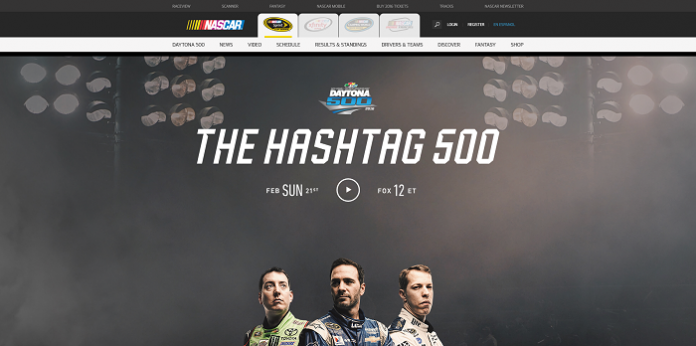 Ladies and gentlemen, get ready for the NASCAR Hashtag 500 Sweepstakes at Nascar.com/Hashtag500. It's a Twitter race happening during the Daytona 500 that let you compete for real gear being used in the race like helmets, gloves, car parts, fire suites and the checkered flag.
Just follow @NASCAR on Twitter and watch the race for multiple chances to win real driver gear being used in the Daytona 500.
How The NASCAR Hashtag 500 Sweepstakes Works
During the week before the Daytona 500, beginning on February 15 and ending on February 20, follow @NASCAR and look for promotional tweets from NASCAR drivers each day on or around 3:00 p.m. ET. Each of these tweets will include a video and a unique hashtag that you must tweet to participate in the daily sweepstakes. The 500th person who tweet the applicable hashtag will win that day's prize.
During the Daytona 500, on Sunday, February 21, watch the race on FOX and look for promotional tweets about every 20 laps for a new Twitter Race and a unique hashtag. Again, the 500th person who tweet the applicable hashtag will win that Twitter Race's prize. On the Final Twitter Race, the first person who tweet the final hashtag will win the grand prize.
Hashtag 500 Prizes
Daily Sweepstakes Prizes:
Monday, February 15: Personal Memorabilia from Dale Earnhardt, Jr.
Tuesday, February 16: Personal Memorabilia from Kevin Harvick.
Wednesday, February 17: Personal Memorabilia from Kyle Busch.
Thursday, February 18: Personal Memorabilia from Brad Keselowski.
Friday, February 19: Personal Memorabilia from Danica Patrick.
Saturday, February 20: Personal Memorabilia from Jimmie Johnson.
Daytona 500 Prizes: Ninei race memorablia prizes are available to be won during the Daytona 500, as listed below.
The green flag, signed by every driver
A fire suit, straight off a driver's back
A helmet, steeped in the thrill of the race
Racing gloves, broken in by every twist and turn
A side door, which may or may not be banged up in a wreck
A steering wheel driven through 500 epic miles
Tires replaced during a pit stop
Team pit sign signed by the whole crew
A gear shifter, pushed to the limit
Grand Prize (1):
A VIP Victory Pack containing a replica of the checkered flag signed by the winner, victory lane confetti and hat worn by race winner.
A trip for two to Daytona 2017 including round trip, coach-class airfare, two (2) night hotel accommodations, rental car, $300 spending money and more.
Winners
A complete list of winners' names will be available online at http://bit.ly/23o4RvA.
Eligibility
The NASCAR Hashtag 500 Sweepstakes is open only to legal residents of the fifty (50) United States and the District of Columbia who are at least thirteen (13) years old at the time of entry.