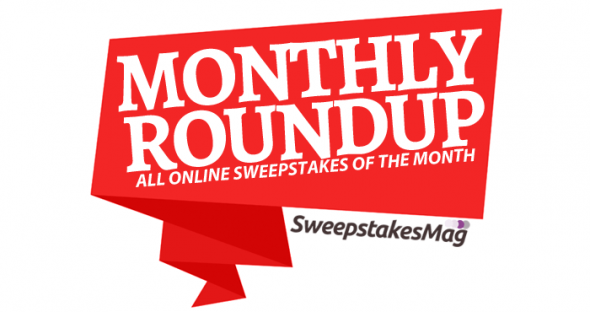 In December 2016, come back here each and every day for fresh sweepstakes, contests, giveaways and instant win games from your favorite brands and websites.
Find newly added online sweepstakes and enter daily, weekly, monthly or only once for your chance to win fantastic prizes such as new cars, trips, cash, gift cards, and much more, all month long!
Check out our list of all online sweepstakes of the month below.
All Online Sweepstakes Of The Month
December 1, 2016
Perfect Holiday Gifts Giveaway presented by MAM: Win a MAM Feed and Soothe gift set and two (2) holiday pacifiers.
$10,000 Holiday Sweepstakes: Win a check in the amount of $10,000.
Campbell's Chunky Soup Text To Win Sweepstakes: Win a New Orleans Saints Autographed Mini Helmet or a $250 NFLShop.com Gift Card.
Opry Christmas List Sweepstakes: Win items from the Opry Christmas List.
Bob Vila's Great Holiday Give-Away: Win one of four prize packages from hayneedle.com.
Tuesday Morning Favorite Things Sweepstakes: Win amazing holiday prize packages.
Sailor Bags Sweepstakes: Win your choice of ANY bag you see on their website.
Bowling.com Bowling Ball Giveaway: Win a FREE High-Performance Storm Code Black bowling ball from Storm Bowling.
Radio Disney Country Cruising into the Holidays Sweepstakes: Win a 3-day/2-night trip for 2 on a 5 night cruise to the Caribbean.
Farmstar Living Sweepstakes: Win $500 and a 3-month supply of fruit from Del Monte Fresh Produce.
Crutchfield's Great Gear Giveaway December 2016 Sweepstakes: Win a $350 Crutchfield Rewards Card.
Southwest The Magazine Jennifer Lopez Meet-and-Greet Sweepstakes: Win two tickets to see Jennifer Lopez: All I Have, meet-and-greets with Jennifer Lopez, and a one-night stay at Planet Hollywood Resort & Casino.
Southwest The Magazine Storks Warner Entertainment Sweepstakes: Win a 32" flat screen TV, Blu-ray™ disc player, and the animated movie, Storks, on Digital HD.
Southwest The Magazine Deep Eddy-branded YETI Cooler Sweepstakes: Win an all-purpose YETI Tundra 50.
The Dr. Oz Show Eucerin Advanced Repair Lotion Giveaway: Win a free 16.9 oz. bottle of Eucerin Advanced Repair Lotion.
Esquire Suicide Squad Sweepstakes: Win a Blu-Ray/Digital HD of the film "Suicide Squad", courtesy of Warner Brothers Home Video.
Woman's Day Dolly Parton's Christmas of Many Colors Circle of Love DVD Giveaway: Win a DVD of the holiday movie, Dolly Parton's Christmas of Many Colors: Circle of Love.
December 2, 2016
Avon The Stars of the Season Sweepstakes: Win all the essentials for ending the year with a bang.
Guinness Gravity Glass Sweepstakes: Win a trip to Dublin, Ireland.
Refinery29 + Robb Report + Moda Operandi Sweepstakes: Win a chic getaway for two.
KORRES x Folli Follie Sweepstakes: Win a Folli Follie jewelry & accessories package, worth $685, and a $400 credit for any KORRES products of their choice.
CBN Radio's Christmas Giveaway: Win a $500 in Amazon Gift Cards.
Birchbox 12 Days of Prizes & Surprises Sweepstakes: Win life-changing prizes.
PopSugar Sweepstakes: Win a $500 shopping spree.
Guitar Center Holiday Sweepstakes: Win a $1,000 shopping spree.
Masterbuilt's 12 Days Of Giveaways: Win a Christmas gift from Masterbuilt.
Arlo 2016 Holiday Sweepstakes: Win one of two extravagant goodies baskets full of smart home products worth $1,500.
Litter-Robot's 25 Days of Christmas Sweepstakes: Win $1,193 in prizes each day.
Schlage Home and Away Sweepstakes: Win a $5,000 gift card.
December 3, 2016
iRobot Conquer The Holidays Sweepstakes: Win an iRobot Roomba 980 vacuuming robot, an iRobot Braava jet 240 mopping robot and a $400 check.
Our Favorite Stocking Stuffers Sweepstakes: Win a limited edition cookbook, Farm Family & Food, full of fresh berry recipes, stories and must-read entertaining tips.
Ravensburger Advent Calendar 2016: Win great Ravensburger prizes.
December 4, 2016
Harry & David Win Two $500 Gift Cards Sweepstakes: Win two $500.00 Harry & David gift cards.
Fantastic Beasts and Where to Find Them IMAX Sweepstakes: Win a Sony Play Station4, LEGO Dimensions PS4 Starter Pack, Fantastic Beasts and Where to Find Them Story Pack, Fantastic Beasts and Where to Find Them Fun Pack and four IMAX Tickets.
White + Warren Sweepstakes: Win a Cashmere Throw Blanket.
Camp Chef #FeedYourOUTside Sweepstakes: Win a different prize every day.
Go Organically Special Delivery Sweepstakes: Win Storks on Digital HD and a box of Each Variety of Go Organically Fruit Snacks.
Shop.com Holiday Cheer Sweepstakes: Win a $200 Shop.com gift card.
Johnston & Murphy's 12 Days of Giveaways: Win today's special gift from Johnston & Murphy.
December 5, 2016
Stoneberry Holiday Shopping Spree Giveaway: Win a $500 shopping spree from Stoneberry.com.
Imperial Sugar Holiday Baking Bonanza Contest: Win a Williams-Sonoma Goldtouch Nonstick 6-Piece Essentials Bakeware set.
Amazon Music Giveaways: Win exclusive prizes like autographed CDs, vinyl records, or instruments, plus trips to see your favorite artists in concert.
Dunkin' Donuts #DDCoffeeJoy Sweepstakes: Win Dunkin' Donuts coffee for one (1) year.
Woman's Day Gear4 Carnaby iPhone 7 Case Giveaway: Win a sleek case for your iPhone 7 from Gear4.
Good Housekeeping January Beauty Loot Sweepstakes: Win one January Beauty Loot bundle.
December 6, 2016
Getaway to the Hamptons with Kate Spade New York Sweepstakes: Win a trip to NYC and the Hamptons with kate spade new york.
Slim Jim Snappy Stockings Sweepstakes: Win a $100 Walmart Gift Card.
Mederma and NeoCutis Giving. Getting. Glowing Instant Win: Win the entire MICRO-ESSENTIALS collection and a full size Mederma Product.
Ryan Seacrest's Office Christmas Party Sweepstakes: Win $10,000 to throw an epic holiday party.
Winter WinCo-Land Sweepstakes: Win a $50 WinCo Gift Card for you AND a friend.
AFAR Media Trip to Zion National Park Sweepstakes: Win a 4 day/3 night Trek Travel tour of Zion National Park for two.
2016 O-Cedar Give & Receive GIVEAWAY Sweepstakes: Win one of 10 Microfiber Steam Mops.
Jared 12 Days Sweepstakes: Win the best jewelry of the season.
December 7, 2016
Mum's First Christmas: Win $900+ in prizes from @storksakbags @xoxobabyco @Belabumbum @SeraphineLtd @GetRecently & @TinyTags.
Refinery 29 Passengers Sweepstakes: Win $3,000 and a New York, NY shopping excursion with a Refinery29 Fashion Editor.
Duraflame Adulting Giveaway: Win Duraflame firelogs, backyard fire pit, and a $500 West Elm gift card to adultify your place.
iHeartRadio Xbox One S Holiday Giveaway: Win an Xbox One S.
Sport Clips HOLIDAY HALFTIME Sweepstakes 2016: Win extra cash to spend on the holiday gifts, or splurge on a few for yourself.
OshKosh B'Gosh 12 Days of Christmas Giftaways Sweepstakes: Win a wagonload of OshKosh B'Gosh's favorite things.
Pepsi Zero Sugar Super Bowl Halftime Show Guest of Honor Contest: Win a trip to Houston, Texas to attend the Pepsi Zero Sugar Super Bowl Half Time Show on Sunday, February 5, 2017.
Woman's Day The Secret Life of Pets Giveaway: Win a Blu-ray/DVD Combo Pack of The Secret Life of Pets.
December 8, 2016
Lehman's Sweepstakes: Win a Red Wagon Full of Toys worth $500.
HomeAway for the Holidays Sweepstakes: Win up to six spectacular stays.
Barielle NYE Prep Giveaway: Win a Nina Ball Kiralee Mesh Clutch, Black Maximilian Fox Fur Earmuffs, BP Velvet Wrap Choker, and 5 Barielle Prosina Glitter Polishes.
The Swiss Colony Storks Sweepstakes: Win a Storks Blu-ray and a Blue Bird Meltaways from The Swiss Colony.
E&G Win a Trip Giveaway: Win a pair of airline vouchers and $5,000 for the getaway of your choice.
Publix #MyBestMeal Sweepstakes: Win a $25 Publix gift card.
Just Dance To Maroon 5 Experience Sweepstakes: Win a VIP trip for two (2) to a Maroon 5 Concert.
Capital One Orange Bowl Sweepstakes: Win a trip for 2 to the 2017 College Football Playoff National Championship Game.
December 9, 2016
Forza Racing Championship Season 2 Viewer Sweepstakes: Win a trip for two (2) to Ingolstadt, Germany.
Holland America Line Best of Alaska 2016-2017 Sweepstakes: Win a 10-Day Alaska Land+Sea Journey for two with Holland America Line.
Wanderlust Aloha O'ahu Sweepstakes: Win two 4-day passes to Wanderlust O'ahu (Feb. 23 – Feb. 26).
Refinery29 + Self + Allure Sweepstakes: Win a Telluride getaway for two.
Quickie Real Clean Made Easy Season's Cleanings Holiday Sweepstakes: Win a $750 Gift Card and all four Quickie Prize Packs.
InStyle Celebrate the Season with Marc Fisher Sweepstakes: Win a $500 Marc Fisher promo code.
Microsoft Christmas Wish List #xboxwishlist Sweepstakes: Win your Xbox Wish List.
AEO #WeAllCan Adventure Together Instant Win Game: Win your next adventure trip.
CMT Kacey Musgraves Christmas in New York Flyaway Sweepstakes: Win a trip to see Willie Nelson and Family in Las Vegas and meet Willie.
December 12, 2016
Black Rifle Coffee Razor Giveaway: Win a 2017 Polaris RZR1000.
Chrome Outfit Yourself Sweepstakes: Win a $500 Chrome gift card.
Philadelphia Museum of Art Trip to Mexico Sweepstakes: Win  a trip to Mexico City inspired by the exhibition Paint the Revolution: Mexican Modernism, 1910–1950.
HTC Stocking Stuffer Sweepstakes:  Win a HTC One A9, HTC 10, or HTC Vive and HP Envy 750 computer bundle.
ShoeMall Holiday Shopping Spree Giveaway: Win a $300 shopping spree.
Ron Hazelton Sweepstakes: Win a serious combo-kit for the dedicated and determined DIYer.
SCHWINN A Handmade Holiday Sweepstakes: Win a Schwinn bicycle.
CB2 + theSkimm Shop Card Giveaway Sweepstakes: Win a $4000 CB2 Shop Card to get your home ready for a season of family, friends, house guests, decorating, eating.
Food Network Magazine December Calendar Sweepstakes: Win a daily gift.
Foursquare I Want Somewhere 2016 Holiday Promotion: Win a $250 American Express gift card.
Xbox 12 Days of Giving Sweepstakes: Win an Xbox One S bundle.
2016 FJ Instagram Wish List Sweepstakes: Win golf shoes, glove, socks, apparel and gear.
Good Housekeeping Nordic Elliptical Sweepstakes: Win a NordicTrack.
December 13, 2016
December 14, 2016
Signed After Series Books Giveaway presented by Gallery Books: Win a set of books personally autographed by author Anna Todd.
inateck 12 Days of Christmas Giveaways: Win free holiday gifts.
Bose SoundTouch 10 wireless speaker Holiday Giveaway: Win a Bose SoundTouch 10 wireless speaker.
Random House Sweepstakes: Win a 4-day/4-night trip to Orlando for two to attend the Star Wars Celebration 2017 Convention.
Minnetonka Win Your Wish List Sweepstakes: Win a $250 e-gift card to MinnetonkaMoccasin.com.
AT&T Super Saturday Night Sweepstakes: Win a VIP trip for two to the AT&T Super Saturday Night Concert featuring Taylor Swift.
Fandango's Passengers Sweepstakes: Win one of 90 pairs of movie tickets via Fandango.
Refinery29 + Secret Escapes Sweepstakes: Win a 3-night stay for 2 at Hotel Casa Chameleon in Puntarenas Province, Costa Rica.
Mini Moment of Joy Instant Win Game & Sweepstakes: Win a 1oz. gold bar or one of 3,000 mini blocks of Velveeta cheese.
Club Med Creactive Contest: Win a 7-day trip for 4 to Club Med Punta Cana Resort in Dominican Republic.
12 Days of SeaWorld's Christmas Celebration Giveaway: Win amazing themed prize packs sponsored by The SeaWorld Store.
Kellogg's Family Rewards Holiday Spin to Win Promotion: Win 50, 100, 500, 7,500, 10,000 or even 100,000 KFR Point rewards.
#Twogether Sweepstakes: Win 2 certificates that can be used toward round-trip economy tickets on Alaska Airlines or Virgin America.
GoodHousekeeping Leggings Sweepstakes: Win one Land's End Gift Card, one Athleta shop card and one Under Armour leggings.
Woman's Day Candlefish Brass Candle Giveaway: Win a holiday pine-scented fragrant candle in a brass holder from Candlefish.
Woman's Day Casabella Bakeware Prize Package Giveaway: Win a variety of must-have bakeware accessories from Casabella.
December 15, 2016
Healthy Start Instant Win: Win $1,000 toward a home gym or gym membership.
VSP EnVision Sweepstakes: Win a 4-night/5-day trip for 2 to Las Vegas, NV.
Latina's Mary Kay Sweepstakes: Win Mary Kay's Limited Edition Be Delighted Collection gift set.
LG December Facebook/Twitter Sweepstakes: Win vairous LG products.
2016 Le Creuset/New Potato Cerise Set Sweepstakes: Win a Cerise Cast Iron Signature Set.
Woman's Day Hazen Jewelry Earrings Giveaway: Win eye-catching, cobalt blue Lasi Earrings from Hazen Jewelry.
December 16, 2016
December 18, 2016
Oprah Magazine Grand Canyon Adventure Sweepstakes: Win a four night, five-day trip to the Grand Canyon in Arizona.
Refinery29 + Eddie Bauer Sweepstakes: Win $1,500 toward a winter wardrobe.
Destination South Burgundy Sweepstakes: Win a stay in Burgundy, France
Club Med Trip Sweepstakes: Win a dream week in the French Alps.
Beyond the Bump Giveaway by Similac StrongMoms: Win one of 3 Grand Prizes, each worth over $4,000.
Sierra Trading Post Brand Spotlight Sweepstakes: Win a $100 eGift Card toward this month's featured brand.
Amazon Bose and NFL Sweepstakes: Win a trip to attend the 2017 Super Bowl in Houston, TX.
Movietickets.com Why Him? Sweepstakes: Win a trip to San Francisco.
Say Yes to Nintendo 3DS Sweepstakes: Win a trip for four (4) to New York, NY.
December 19, 2016
Margaritaville's Bring Paradise Home Giveaway: Win a $1000.00 Margaritaville Gift Card.
Your Best Year Yet Sweepstakes with JetSmarter: Win a JetSmarter private jet membership for a year, plus $1,000 each in Gilt, Gilt City andGilt Travel credit.
Bow Tie Cinemas Sweepstakes: Win one of 20 Passengers Prize Packs
 Amazon Music, Amazon Echo Giveaway: Win one of 25 Amazon Echo devices.
December 20, 2016
Maxim's Bellator 170 Sweepstakes: Win a trip for two (2) people to Los Angeles, CA including tickets to see Bellator 170.
Rainguard Ultimate Racing Fan Experience Sweepstakes: Win a trip to either, O'Reilly Auto Parts 500 April 7-9, 2017, Rainguard Water Sealers 600 June 8-10, 2017or AAA Texas 500 November 2-5, 2017.
Dave Smith 2017 JEEP Wrangler Giveaway: Win a custom 2017 Jeep Wrangler Sport 4×4.
Men's Fitness Live Your Adventure Sweepstakes: Win one of 5 $250 Eddie Bauer gift cards.
Epiphone December 2016 Giveaway: Win a new Epiphone Slash "AFD" Les Paul Performance Pack.
nabi Holiday Sweepstakes: Win one of 100 $50.00 Mattel Vouchers.
Ryan Seacrest's Toys R Us Holiday Gift Card Sweepstakes: Win a $1,000 Gift Card for Toys R Us for your last minute holiday shopping.
Nate Berkus Smoke-Free Room Refresh Contest: Win a room refresh (awarded in the form of a check for $5,000, and the opportunity to receive consulting tips with Nate Berkus.
December 21, 2016
December 22, 2016
#AllstatePrepSweepstakes Promotion: Win a Grand Prize Emergency Preparedness Kit.
FiberMax Maximizer Club Sweepstakes: Win a Polaris Ranger XP 1000 EPS utility vehicle.
Seventeen Clutch Essentials Sweepstakes: Win one (1) Vince Camuto clutch: $158, one (1) tin of Dylan's Candy Bar mints: $4, one (1) pack of Emi Jay hair ties: $11, one (1) KIND bar: $2, one (1) Marc Jacobs Divine Decadence rollerball: $29, one (1) HTC phone (no contract or services provided): $429, one (1) pack of Compeed blister cushions: $8, one (1) pack of Hollywood Fashion Secrets Fashion Tape: $9, (ARV: $650).
Woman's Day Savvy Design Amethyst Bracelet Giveaway: Win an eye-catching Lotus Blossom Amethyst Bracelet from Savvy Design Jewelry.
December 26, 2016
Ocean Spray Warm Up Winter Giveaway: Win a variety of prizes, including the ultimate warm up winter weekend getaway for two.
TeeFury Ultimate Man Cave Sweepstakes: Win over $2,500 in prizes to take your man cave to the next level.
2017 MAZDA CX-5 Experience Sweepstakes: Win a 2017 Mazda CX-5 Experience trip package on March 4-6, 2017.
WIRED Wish List 2016 Sweepstakes: Win a prize package valued at over $3,500.
KLORANE Hack Your Way to Gorgeous Holiday Sweeps: Win quick and refreshing Klorane must-haves.
Pittsburgh Penguins EA SPORTS Sweepstakes: Win an EA Sports Penguins Prize Pack.
Radio Disney NFL Pro Bowl MVP Sweepstakes: Win a trip to Walt Disney World Resort in Florida and the Pro Bowl.
Be VIP with Can?Am Spyder Sweepstakes: Win a VIP Nascar Experience package for 2 to the Daytona 500.
Refinery29 + IMAX Sweepstakes: Win one year of IMAX Movies and more.
Vampire Vineyards/Underworld Blood Wars Sweepstakes: Win a private screening of "Underworld: Blood Wars" in or near winner's hometown for winner and up to 100 guests.
Pennzoil ULTIMATE FAN EXPERIENCE #2 2016 Sweepstakes: Win a VIP concert experience with some of your favorite artists from Pennzoil Garage Sessions.
Skybuds Giveaway: Win a pair of Skybuds.
LIVE's Year End Tune in To Win Sweepstakes: Win a trip to The Pineapple Beach Club in Antigua, an Adults Only Resort.
Modern Gourmet Foods Sweepstakes: Win up to $500 in prepaid debit cards.
The Talk Web Exclusive Giveaway: Win a $150 Flemings Gift Card.
December 27, 2016
Anki OVERDRIVE Starter Kit Giveaway: Win 1 of 2 Anki OVERDRIVE Starter Kits.
Reebok #PerfectNeverSweepstakes: Win a $1,000 Reebok gift card.
Shawn Mendes Illuminate Tour Sweepstakes: Win a VIP Meet and Greet Experience with Shawn Mendes.
Country Living Find the Horseshoe Sweepstakes Jan/Feb 2017: Win a kitchen island from Magnolia Home.
Pier 1 Imports Country Living Sweepstakes: Win a $1,000 Gift Card to Pier 1 Imports.
Woman's Day Body Dynamix by Debbie Siebers Workout DVD Giveaway: Win a Body Dynamix by Debbie Siebers workout DVD set with seven low impact routines.
Woman's Day ColorProof Evolved Color Care Products Giveaway: Win six CrazySmooth hair care products from ColorProof Evolved Color Care.
Woman's Day Sonesta Silicon Valley Hotel, San Jose, CA Getaway Giveaway: Win a four-day, three-night stay for two at the Sonesta Silicon Valley Hotel in San Jose, California.
December 28, 2016
Be sure to come back tomorrow for new sweepstakes, contests, giveaways and instant win games!