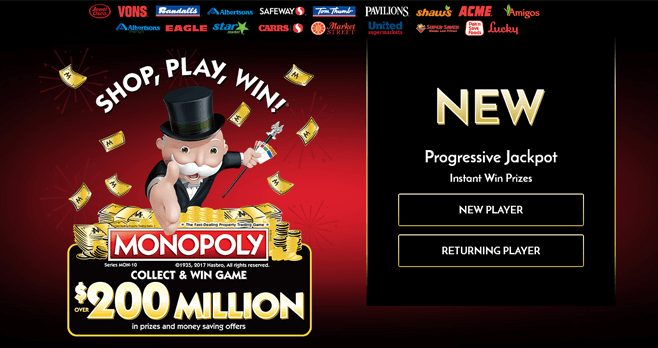 The Monopoly Albertsons 2017 is back! Play the Albertsons Monopoly Game at PlayMonopoly.us beginning on February 8, 2017 and you could win from over $200,000,000 in prizes and money saving offers. And if you are lucky enough to find Albertsons Monopoly rare pieces 2017 and complete the Albertsons Monopoly Game Board 2017, you might win a $1,000,000 guaranteed prize.
Prizes includes $1,000,000 in cash, $1,000,000 vacation homes, luxury cars, home makeovers, family vacations, and more. Plus, be sure to play using your Albertsons Monopoly US online game codes at www.playmonopoly.us for a chance at $1,000 Grocery Gift Cards or a $10,000 cash prize.
Show Coupon Code | Read The Official Rules
How To Obtain Albertsons Monopoly Game Pieces
In order to participate, you'll need to obtain Abertsons Monopoly Games Pieces. Free game pieces can be obtained with each purchase transaction at any participating Albertsons, Safeway, Pavilions, Carrs, Vons,Randalls, Eagle, Pak 'n Save, Tom Thumb, ACME Markets, Jewel-Osco, Shaw's Supermarkets,Star Markets, United Supermarkets, Market Street, Amigos, United Express, Albertsons Market,Lucky (Southern California only) and Super Saver store locations. You may also obtain bonus game pieces with each purchase of a participating vendor product or with every 10 bonus items purchased in one shopping visit.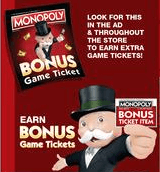 Alternatively, you may also obtain game pieces without purchase by requesting 1 game piece and 1 bonus game piece by mail. Simply send a self-addressed, stamped envelope to MONOPOLY MON-10 Collect and Win, Game Ticket Request, Attn: Promotions Coordinator, P.O. Box 965905, Marietta, GA 30066.
Once you obtain a game piece, gently tear off the perforated portions one of the following:
official game markers
special discount offer
MONOPOLY Online Code
Nickelodeon Online code
Instant Win Grocery Gift Card
Instant Win Cash, Free Product coupon
2 free game tickets coupon
Your game piece will also contains 4 game pieces which can be placed on the exact corresponding matching prize play area spaces on the Albertsons Monopoly game board 2017. Some Albertsons Monopoly 2017 pieces are hard to get but if you find them, you will win bigger prizes.
How To Play The Albertsons Monopoly Game 2017 At PlayMonopoly.us
If your game piece reveal an online game code, a 12-digit alphanumeric code, submit it at www.playmonopoly.us to see if you are an instant prize winner.
Online Game Codes may also be sent by mail by hand writing your full name, address, phone number, age on a 3″ X 5″ index card and affixing your Online Game Codes coupon to the index card. Then, mail the index card in a 1st class-stamped, hand addressed envelope to: 2nd Chance Sweepstakes, P.O. Box 441208, Kennesaw, GA 30160.
Please note that each online game code may be entered only once, regardless of the method of entry.
Prizing Details
Wondering what are the prizes you could win if you are a winner? Please find out a complete list of all prizes below.

What You Need To Know About The Monopoly Albertsons 2017?
Eligibility: In order to participate in the Albertsons Monopoly Game and be eligible to win a prize, you must be at least 18 years of age or older and be a legal U.S. resident of one of the following eligible states: Arizona, Arkansas, California, Colorado, Delaware, Idaho, Illinois, Indiana, Iowa, Louisiana, Maine, Maryland, Massachusetts, Montana, Nevada, New Hampshire, New Jersey, New Mexico, North Dakota, Oregon, Pennsylvania, Rhode Island, Texas, Utah, Vermont, Washington or Wyoming. Florida is excluded in this Promotion.
Sweepstakes Period: The Monopoly Albertsons 2017 starts on Wednesday, February 8, 2017 and ends on Tuesday, May 9, 2017 or when all game tickets have been distributed.
Limit: There is no limit to the number of entries each individual can receive throughout the Game Period.
Sponsor: Albertsons