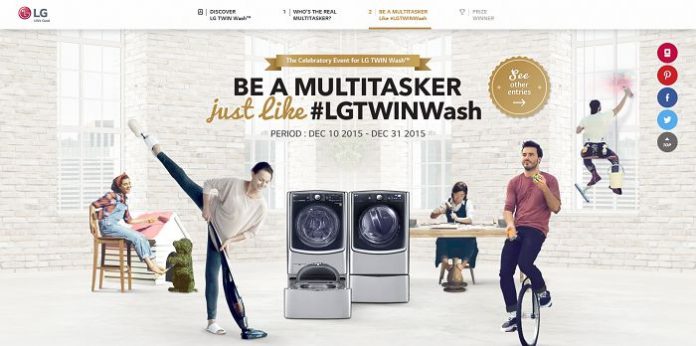 LG is looking for multitaskers in their new "Be A Multitasker Just Like #LGTWINWash Contest". But what is a multitasker? It's a person who can perform two or more tasks at the same time simultaneously just like the LG Twin Wash that can wash two loads at the same time. If you're this kind of person, you could win an LG Twin Wash Suite!
Multitask like the LGTWINWash™ for a chance to win! Rules and details at https://t.co/czHUVW72jM #contesthttps://t.co/gGHJkQLwVA

— LG Electronics (@LGUS) December 10, 2015
All you have to do is post a photo or video of yourself doing two things at once to become the ultimate multitasker.
Who's The Real Multitasker?
Are you ready to compete against other multitaskers? Are you ready to prove yourself? Complete the three following steps and be entered into the Contest to determine who's the real multitasker:
Record a video or snap of photo of yourself performing a multitasking combination.
Share your video/photo on your favorite social media platform (Facebook, Twitter, Youtube, Instagram). Be sure to include the hashtags #LGTWINWash and #Contest.
Go to lgtwinwashevent.com and fill out the entry form by providing all required information, including a link to your video/photo post and a title for your entry.
If you are that good at multitasking, feel free to submit more than one photo/video to increase your chances of winning. Limited to a maximum of one (1) submission per day.
At the conclusion of the Promotion Period, on December 31, all entries will be judged based on the following criteria: Creativity (25%), Originality (25%), Esthetic quality (25%), and Practicality (25%).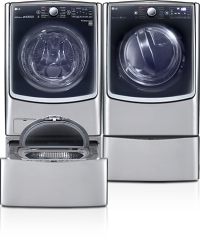 The submissions that received the highest scores will be deemed winners and will receive the following prizes:
Grand Prize (highest score): An LG Twin Wash Suite.
First Prize (second highest score): An LG Twin Wash.
Second Prize (third highest score): An LG Homebot.
Twenty (20) other entries with the highest score will get a $50 gift card.
The LG Be A Multitasker Just Like #LGTWINWash Contest is open only to legal residents of the 48 contiguous United States, the District of Columbia, and Canada (excluding Quebec) who are at least eighteen (18) years old at the time of entry.