WheelOfFortune.com Secret Santa SPIN ID Sweepstakes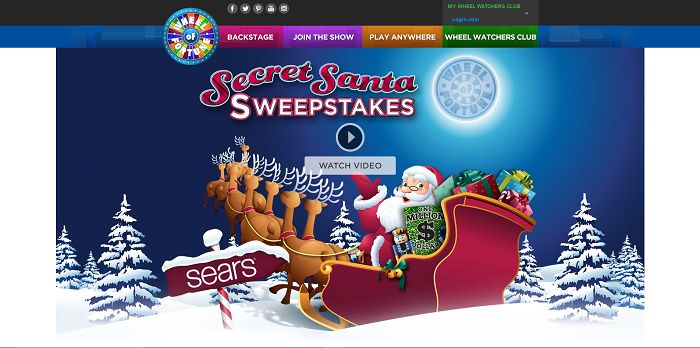 Good news! Your favorite holiday tradition is back! It's the Wheel Of Fortune Secret Santa Sweepstakes and it might be the best Christmas Giveaway of the year! Wheel Of Fortune will be gifting away over $1,000,000 in fabulous vacations, cars, cash and a Sears Shopping Spree!
Join the Wheel Watchers Club by November 17th and you could have your own Secret Santa! Get your free SPIN ID now at WheelOfFortune.com and in December, whatever your Secret Santa wins, YOU WIN it too! With so many gifts from your Secret Santa, you'll have to bring the sleigh!
SEE ALSO: WheelOfFortune.com Adios Winter Sweepstakes
Winning Secret Santa Spin IDs
Please find a complete list of all winning Spin IDs below.
Week 1
November 30:

JB2669345 belongs to Janet B. for $70,858 Cash & Prizes
DA1865800 belongs to Diane A. for $6,950 Cash
JE5964828 belongs to Joseph E. for $2,000 Cash

December 1:

SA0534936 belongs to Sandra A. for $22,500 Cash & Prizes
LZ3944615 belongs to Lisa Z. for $10,000 Cash
TW10279 belongs to Tanya W. for $6,250 Cash

December 2:

KC0493778 belongs to Kelly C. for $22000 Cash & Prizes
PT4903909 belongs to Paul T. for $3000 Cash
IC6384498 belongs to Irma C. for $65500

December 3:

JS7329475 belongs to Jasmine S. for $9,250 Cash
AJ4669151 belongs to April J. for $5,850 Cash
ET4777638 belongs to Eric T. for $55,450 Cash & prizes

December 4:

MC3743628 belongs to Marlene C. for $6,200 Cash
KW4117127 belongs to Kayla W. for $20,500 Cash & prizes
ME7714800 belongs to Michael E. for $3,000 Cash
Week 2
December 7:

CE6429347 belongs to Cheryl E. for $34,808 Cash & Prizes
CP4289785 belongs to Connie P. for $5,000 Cash
CP8372616 belongs to Caron P. for $18,065 Cash & Prizes

December 8:

CT05062 belongs to Celestine T. for $1,000 Cash
SD9066990 belongs to Shanie D. for $2,000 Cash
SB4790575 belongs to Shenell B. for $22,504 Cash & Prizes

December 9:

HH0206748 belongs to Heather H. for $53,010 Cash & Prizes
GH5819607 belongs to Gary H. for $1,000 Cash
EL2853808 belongs to Elesa L. for $6,500 Cash

December 10:

NF4332522 belongs to Nancy F. for $2,000 Cash
KH7524432 belongs to Kimber H. for $13,250 Cash & Prizes
MR1893477 belongs to Michael R. for $10,650 Cash & Prizes

December 11:

ET00317 belongs to Eda T. for $19,390 Cash & Prizes
DB6125659 belongs to Dorma B. for $6,050 Cash
TF5783383 belongs to Theodora F. for $1,000 Cash
Win The WheelOfFortune.com Secret Santa SPIN ID Sweepstakes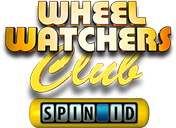 Starting on November 3, 2015, join the Wheel Watchers Club at www.wheeloffortune.com to get your SPIN ID, a unique 7-character or 9-character "Special Prize Identification Number". If you are already a registered Wheel Watchers Club member, simply log into the Wheel Watchers Club web site to obtain your SPIN ID. Be sure to register by 11:59:59 p.m. PT on November 17, 2015!
Then, tune in to Wheel Of Fortune on weekdays from November 30 to December 11 and look for the SPIN ID Numbers that will be aired on the Show.  If your SPIN ID number is displayed on screen, you could win the same cash and prizes as the in-studio contestants.
Be sure to confirm your SPIN ID number was displayed on the show by logging into the Website, and following the online instructions to complete the online verification process within 24 hours of the display of your SPIN ID Number on the Show.
Open only to legal residents of the fifty (50) United States and D.C., and who are 18 years of age or older as of November 3, 2015. Must be active Wheel Watchers Club members and have either a valid social security number or a valid U.S. personal tax identification to participate.
You could win big this holiday season so be sure to join the Wheel Watchers Club by November 17th for YOUR chance to win!