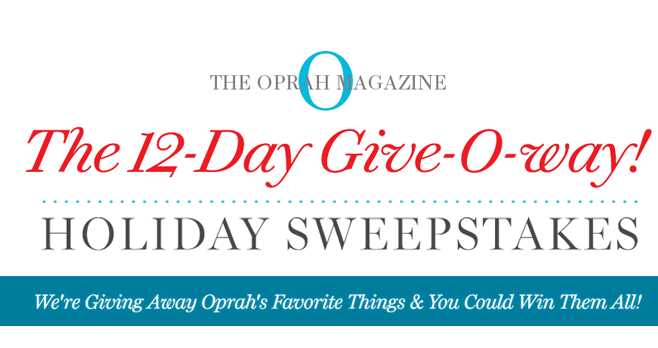 You've been waiting for it for an entire year! The Oprah 12 Days Holiday Giveaway Sweepstakes is finally here with the biggest giveaway ever! You've probably read the December issue of O, The Oprah Magazine hundreds of times. You saw all those holiday icons with 3-digit numbers and you know exactly what they mean, right? It's now time to enter at Oprah.com/12Days!
It's time for the holidays and if you don't know what to give to your loved ones, look at Oprah's list of Favorite Things 2016 and you are sure to find something special for a favorite friend, a favorite family member, or for yourself! And now, you could win all 100 of Oprah's Favorite Things! That's over $20,000 worth of hand-picked products by Oprah herself.
Oprah.com/12days: Find Out How You Could Win Them All!
Starting on November 28th, head to Oprah.com/12Days and register for your chance to win. Yep, it's that easy! Just click on the applicable day and fill out the entry form displayed onscreen to start a FREE trial subscription to O, The Oprah Magazine and be automatically entered into the 12-Day Give-O-Way. And don't forget to include that day's code at the top of the entry form!
Already a subscriber? Look for the "Click Here" link located above the entry form. By clicking this link, you'll be redirected to a second entry form where you can enter without starting a trial subscription to O, The Oprah Magazine.
For your convenience, we include all codes below:
11/28: 018
11/29: 030
11/30: 052
12/1: 078
12/2: 090
12/3: 104
12/4: 114
12/5: 129
12/6: 134
12/7: 165
12/8: 174
12/9: 181
Oprah 12-Day Holiday Giveaway Sweepstakes 2016 At A Glance
Open only to legal residents of the 50 United States and the District of Columbia, who are 21 years or older at time of entry.
Runs from Monday, November 28, 2016 until Friday, December 9, 2016.
You may enter once per day throughout the Promotion Period.
Total approximate retail value of all prizes is $245,419.
For more information on the Oprah 12-Day Holiday Giveaway Sweepstakes 2016, including official rules, visit Oprah.com/12days now!