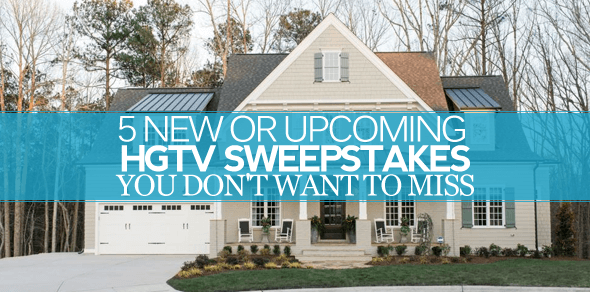 If you love entering Sweepstakes, you probably already entered at least one HGTV Sweepstakes.  These sweepstakes offer great prizes ranging from money to entire houses! HGTV Sweepstakes 2016 are popping every once in awhile during the year and it might become hard to keep track of them so I decided to make a list of the new and upcoming ones.
New HGTV Sweepstakes 2016
HGTV Be Floored By Your Renovation Sweepstakes
A gift certificate redeemable for $4,000 in flooring products from Lumber Liquidators is up for grab in the Sweepstakes. Visit at HGTV.com/BeFlooredSweepstakes and register daily through June 6, 2016 for more chances to win.
HGTV Love Your Home Sweepstakes
Do you love your home? How about winning $50,000 to update it so you can Love It Or List It? This is what the Love Your Home Sweepstakes from HGTV and Berkshire Hathaway is offering you the chance to win. Register at LoveYourHomeSweeps.com now through June 17, 2016.
HGTV Brother Vs. Brother Sweepstakes
The new season of Brother Vs. Brother premiered on June 1st. To celebrate, HGTV announced a new Sweepstakes where three lucky fans will have the chance to participate in a 30-minute video design Q&A with the Scott Brothers and get $5,000 cash. All you have to do is fill out the online entry form at HGTV.com/BrotherSweeps.
HGTV Curb Appeal Sweepstakes
HGTV and ERA Real Estate have teamed up to bring you the Curb Appeal Sweepstakes. Each week, a new winner shall win $500 cash. And at the end of the Sweepstakes Period, one lucky grand prize winner will receive a check for $20,000 that can be used to renovate their home. For your chance to win, go to HGTV.com/CurbAppealSweepstakes.
HGTV Ultimate House Hunt Giveaway 2016
This annual Giveaway of one of HGTV's favorite. Viewers are invited to join the house hunt by touring amazing homes from all around the world and vote for their favorites. By voting, participants will be automatically entered for a chance to win $10,000 in cash. Get started by visiting HGTV.com/UltimateHouseHunt.
Upcoming HGTV Sweepstakes 2016
More Sweepstakes From HGTV's Sister Sites
Travel Channel Discover America Sweepstakes
Month after month, Travel Channel is awarding a new travel in their monthly Sweepstakes. From May 13 to June 24, you could win $10,000 that can be used to plan a trip across the country to Discover America. Enter for a chance to win at TravelChannel.com/Sweepstakes.
DIY Network America's Most Desperate Landscape Giveaway 2016
Just like previous years, DIY Network is still looking for America's Most Desperate Landscape. To help homeowners, DIY Network is giving away $50,000 towards a landscape makeover. Head to DIYNetwork.com/AMDLGiveaway to enter.
Great American Country Summer Across America Sweepstakes 2016
The Summer Across America Sweepstakes from GACTV is your chance to win $45,000 to start your dream adventure. If you are planning to hit the highway on road trip, this might be the best way to kick start your next vacation. Go online to GreatAmericanCountry.com/Summer for all details.
My Adventure Sweepstakes
Jeep is offering one lucky adventurer the chance to win $20,000 to plan their ultimate summer adventure in the refreshing Sweepstakes. Weekly prizes of $500 cash are also available to be won throughout the Sweepstakes Period. Complete and submit the official entry form at MyAdventureSweepstakes.com.
Food Network Star Fan Favorite Sweepstakes
Food Network is giving away weekly Food Network Star-inspired prizes, plus a cool $4,000 cash prize during the Star Fan Favorite Sweepstakes. Bobby and Giada are inviting you to participate on FoodNetwork.com.
Which one of these HGTV Sweepstakes 2016 would you like to win the most and why? Let us know!