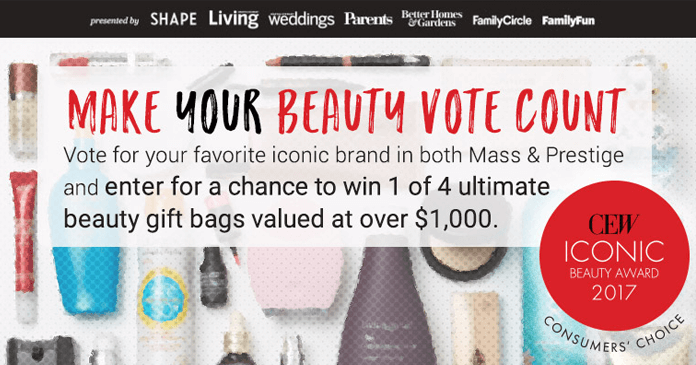 It's time to make your beauty vote count. Shape encourages you to vote for your favorite iconic brand in both Mass & Prestige and enter the Vote For Beauty Sweepstakes for a chance to win an ultimate beauty gift bag valued at more than $1,000.
Each of the 4 lucky winners will receive a beauty gift bag, featuring a collection of beauty product from Vince Camuto, Exuviance, Olay, Mary Kay, and a lot more.
Sweepstakes Links
How To Vote And Enter

Visit Beautybash.me during the Sweepstakes Period.
Vote for your favorite iconic luxury product.
Vote for your favorite iconic product sold in drugstores.
Register for the Sweepstakes by completing the entry form.
Each entry form submitted will result in one entry. All entries must be submitted by 11:59 p.m. CT on 4/24/17 to be eligible.
Sweepstakes Prizes
Four winners will win an Ultimate Beauty Bag filled with the following beauty products:
Vince Camuto Capri perfume (Approximate Retail Value ("ARV"): $85);
Dr. Brandt Skincare Magnetight Age-defier Skin Recharging Magnet Mask (ARV $75);
WEN Hair & Body Care by Chaz Dean Pink Jasmine Peony Cleansing Conditioner (ARV $72);
Christie Brinkley Authentic Skincare Inlighten Spot Corrector & Brightening Serum + IR Defense (ARV $69);
Simply Venom Night Cream (ARV $69);
Exuviance Overnight Recovery Masque (ARV $65);
Vbeaute Dew Time Intense Glacial Hydration (ARV $65);
JAFRA Cosmetics International Perfumer's Edition – Paris et Moi by Philippine Courtiere (ARV $52);
BioRepublic SkinCare Lost Baggage Under Eye Emergency Repair Mask (ARV $44.99);
Goldwell Kerasilk Intensive Repair Mask (ARV $39);
Philosophy Take A Deep Breath Sheer Liquid Sunshine with Clean Air Technology (ARV $35);
Kat Von D Lock-it Edge Foundation Brush (ARV $34);
Keranique Tint & Texture Color Density Treatment (ARV $34);
Orlando Pita Play Big Revival Hair Mask (ARV $32);
Jack Black Clean Break Oil-free Moisturizer (ARV $30);
Olay Regenerist Miracle Boost Concentrate (ARV $26.99);
Serious Skincare Dry Lo Spot Treatment (ARV $24.50);
GLAMGLOW Plumprageous ™ Matte Lip Treatment (ARV $24);
IT Cosmetics Superhero ™ Elastic Stretch Volumizing Mascara (ARV $24);
Stila Cosmetics Magnificent Metals Glitter & Glow Liquid Eye Shadow (ARV $24);
Supergoop! Shine On Lip Screen SPF 50 (ARV $22);
TOPPIK Brow Building Fibers (ARV $19.95);
Mary Kay® Gel Semi-matte Lipstick (ARV $18);
Bioderma Sensibio H2O Micellar Water (ARV $16.95);
Scotch Porter Charcoal & Licorice Moisture Defend Face Lotion (ARV $15);
Circa Fresh Canvas Anti-stress Primer (ARV $14);
Ulta Beauty Mattifying Balm (ARV $12.50);
Avon Skin So Soft Original Bath Oil (ARV $11.99);
Soap & Glory Supercat Eyeliner (ARV $10);
Zoya Nail Polish in Tara (ARV $10);
Rimmel London Wonder'lash Volume Colourist Mascara ($8.49);
Freeman Beauty Beauty Infusion Brightening Overnight Mask Hibiscus + Vitamin C (ARV $7.99);
Aquation Gentle Moisturizing Cleanser (ARV $7.94);
Pantene Pro-V Style Series Airspray (Level 2 Hold) (ARV $6.99);
Avon True Color Perfectly Matte Lipstick (ARV $5.99);
Chapstick Total Hydration Moisture + Tint (ARV $4.99);
KISS Products, Inc. Blooming Lash (ARV $4.99);
Wet N Wild Mega Glo Highlighting Powder (ARV $4.99);
The O'Keeffe's Company Lip Repair® (ARV $3.99).
Each Ultimate Beauty Bag has a total ARV of $1,131.23.
Total ARV of all prizes awarded is $4,524.92.
Official Rules
The Shape Vote For Beauty Sweepstakes is open to legal residents of the 50 United States and the District of Columbia, 18 years of age or older.
Begins at 12:01 a.m. CT on March 28, 2017 and ends at 11:59 p.m. CT on April 24, 2017. There is a limit of one entry per person throughout the Sweepstakes Period.
On or about April 29, 2017, Sponsor will conduct a random drawing from among all eligible entries received and combined from both categories to select 4 potential winners. For the winners' list, available after 5/24/17, send a separate, self-addressed, stamped envelope to Winners' List, Vote for Beauty Sweepstakes, 1716 Locust St., LS-321, Des Moines, IA 50309.
The Sponsor of this Sweepstakes is Meredith Corporation, 1716 Locust St., Des Moines, Iowa.