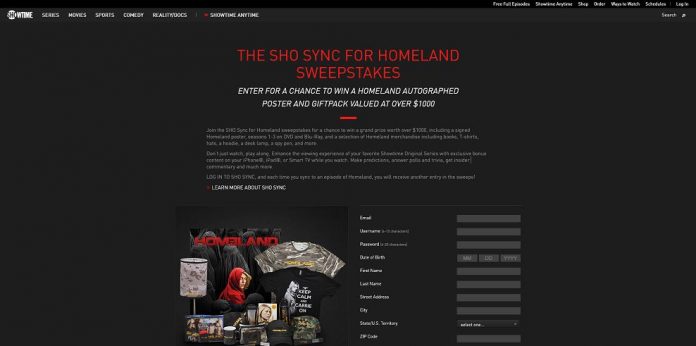 Hey Homeland fans ! Enhance your viewing experience with the SHO Sync Application, the second screen app for Showtime Original Series, featuring commentary from Showrunner Alex Gansa and real-life observations from a former spy and you could win a $1,000 Homeland Gift Pack !
Between 12:00 A.M. ET on October 19, 2014 and 11:59 P.M. ET on December 22, 2014, complete the online entry registration process at http://www.sho.com/sho/sweepstakes/sho-sync/home and earn up to one hundred entries into the sweesptakes when you use the SHO Sync Application. Each sync with any episode of Homeland will result in one entry.
The SHO Sync App is available on the App Store (Apple devices).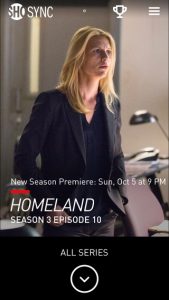 Can't use the SHO Syns App ?
Don't worry, you may also earn a maximum of 100 entries into the sweepstakes when you hand-print your first and last name, street address, city, state, and ZIP code on a 3″ by 5″ paper, insert in an envelope with proper postage affixed and mail to SHO Sync Homeland Sweeps, P.O. Box 601, Garden City, NY 11530-0601.
Mail-in entries must be postmarked by December 22, 2014 and received by December 29, 2014. Each mail-in entry must be mailed separately.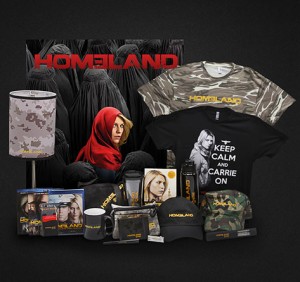 Grand Prize Details
The Homeland prize package awarded to the grand prize winner includes the following:
an autographed Homeland Season 4 poster;
Homeland Seasons 1-3 on DVD and Blu-Ray;
a variety of Homeland series-related merchandise items
The approximate retail value of all items included in the gift pack is $1,000.
Eligibility
Open to legal residents of the 50 United States or District of Columbia who are at least 18 years of age or legal age of majority in their state of residence at time of entry.