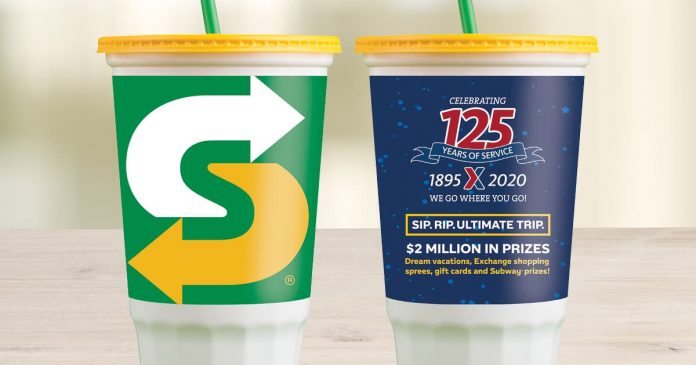 Enter the Exchange Subway Sip. Rip. Ultimate Trip Promo at ExchangeSubwayPromos.com and you could be the winner of dream vacations, Exchange shopping sprees, gift cards, and more.
Here's what to know about Subway Sip. Rip. Ultimate Trip Sweepstakes 2020.
Subway Sweepstakes is open only to authorized Exchange patrons that are citizens of the 50 United States, Puerto Rico and the District of Columbia (excluding all United States territories and possessions that are not U.S. military bases, and Rhode Island, New York and Florida), 18 years or older that are U.S. Forces members and family members who are Exchange Authorized Patrons at designated Exchanges on U.S. Military Bases in the United States, Germany, Italy, Kosovo, South Korea, Mainland Japan, Okinawa, Puerto Rico, Honduras, and Kwajalein.
Begins on July 1, 2020 and ends on August 31, 2020.
Locate the Ultimate Trip Game piece on the cup.
Locate the code on the Game Piece.
There will be up to one hundred seventy-one thousand and ten (171,010) prizes available
to be awarded.
The approximate retail value for all Prizes is $2,135,900.
Enter At ExchangeSubwayPromos.com | Official Rules | Follow Us On Facebook