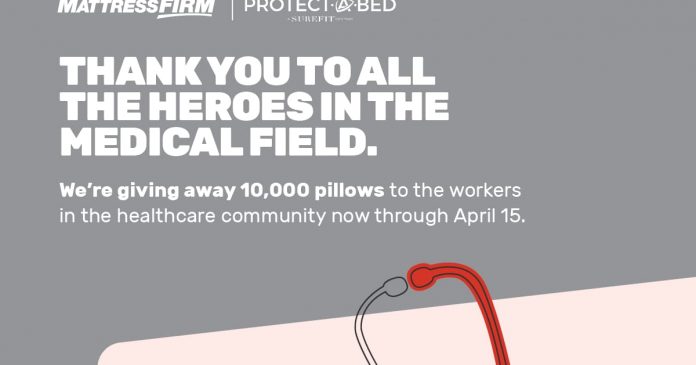 Mattress Firm is giving away a free pillow to healthcare workers now through April 15. Up to 1,000 pillows will be donated each day, starting at 10 am CDT.
Visit www.mattressfirm.com/blog/community-culture/free-pillow-healthcare-workers at 10 am CDT every day during the Mattress Firm Healthcare Giveaway.
Mattress Firm Healthcare Giveaway is open only to legal residents of the 50 United States and the District of Columbia who are practicing healthcare professionals (e.g., medical doctors, nurses, pharmacists, etc.) or active first responders (e.g., police officer, firefighter, EMT, paramedic, etc.). Participants must be at least eighteen (18) years of age at the time of entry to be eligible. The Giveaway begins on April 6, 2020 and ends on April 15, 2020. Limit one (1) entry per person per day of the Giveaway Period. For each day of the Giveaway Period, the Sponsor will give a pillow, free of charge, to each of the first 1,000 eligible entries received on such day.