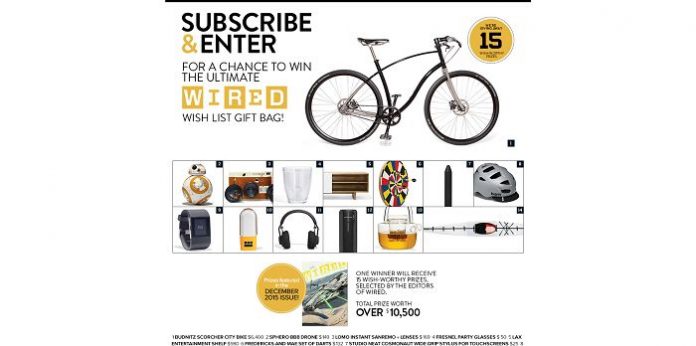 If you're not a WIRED Magazine reader yet, today is a good time to start! If you subscribe to WIRED Magazine, not only you'll to get 6 issues for just $5, but you'll also be automatically entered into the Wish List 2015 Sweepstakes! One lucky subscriber will receive the Ultimate Wired Wish List Gift Bag!
How To Subscribe To WIRED Magazine
In order to take advantage of this incredible opportunity, you must subscribe to the magazine first. How? It's easy.
Go online to wired.com/go/sweeps.
Fill out the subscription form in its entirety.
Submit using the "Subscribe And Enter" button.
Are you already a subscriber who want to win? Do you simply want to enter without subscribing to wired? Access the alternate entry form by clicking here and follow the instructions to participate.
All entries must be received by no later than 11:59 PM ET January 29, 2016 to be eligible to win the Grand Prize. Open to legal residents of the 50 United States and District of Columbia who are at least 18 years old as of the date of entry.
The Ultimate Wired Wish List Gift Bag
The Ultimate Wired Wish List Gift Bag consists of 15 wish-worthy prizes, selected by the editors of Wired, valued at over $10,000! Check out all the prizes below:
One (1) Fredericks and Mae Set of Darts
Six (6) Fresnel Party Glasses
One (1) UE Boom 2
One (1) LAX Entertainment Shelf
One (1) CB2 Betty Glass Teapot
One (1) AIAIAI TMA-2 Modular Headphones
One (1) Oru Coast Kayak
One (1) BioLite Nano Grid
One (1) Bern Allston Helmet
One (1) Budnitz Scorcher City Bike
One (1) InCase Ari Marcopoulos Camera Bag
One (1) Lomo Instant SanRemo + Lenses
One (1) Sphero BB8 Drone
One (1) Studio Neat Cosmonaut Wide Grip Stylus for TouchScreens
One (1) Fitbit Surge
Are you subscribing or not?