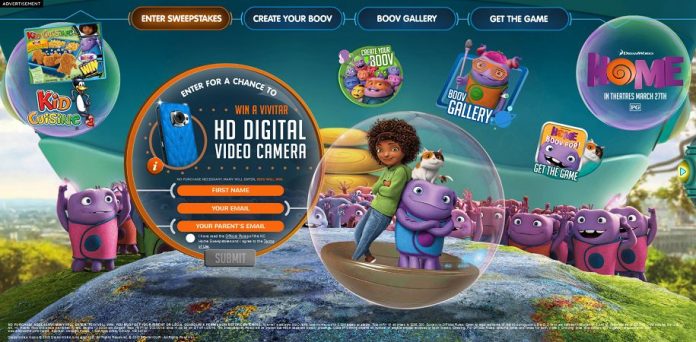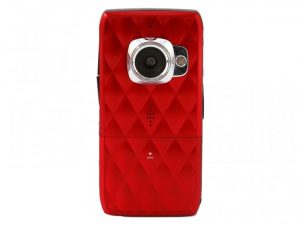 Kid-friendly meals Kid Cuisine and the new animated film "Home" starring Rihanna, Jim Parsons, Steve Martin and Jennifer Lopez, are teaming up to give away over $250,000 in prizes in the Kid Cuisine Home Movie Sweepstakes!
3,500 lucky winners will each receive the powerful Vivatar DVR 884HD camera, an HD digital video camera packed with loads of features into easy-to-carry technology!
Entering Is Easy
Once you got your parent's or legal guardian's permission to enter, go to KidCuisine.com/Home and follow the instructions to complete the entry form by providing your first name, your email and your parent's email. Once completed, submit as directed to automatically receive one (1) entry into the applicable Weekly Drawing.
You may participate once during each of the following Weekly Entry Period:
Week #1: February 23 – February 28
Week #2: March 1 –  March 7
Week #3: March 8 – March 14
Week #4: March 15 – March 21
Week #5: March 22 – March 28
Week #6: March 29 – April 4
Week #7: April 5 – April 13
Week #8: April 12 – April 18
Week #9: April 19 – April 25
All entries must be completed and received by no later than 11:59:59 p.m. ET on April 25, 2015.
Eligibility
The Kid Cuisine Home Movie Sweepstakes is open only to legal residents of the forty-eight (48) contiguous United States and the District of Columbia, who are between six (6) and eleven (11) years of age at the time of entry.
More About "Home"
Dreamwork's Home is a family movie directed by Tim Johnson and starring Jim Parsons, Rihanna, Steve Martin, Jennifer Lopez.
When Oh, a loveable misfit from another planet, lands on Earth and finds himself on the run from his own people, he forms an unlikely friendship with an adventurous girl named Tip who is on a quest of her own. Through a series of comic adventures with Tip, Oh comes to understand that being different and making mistakes is all part of being human, and together they discover the true meaning of the word HOME.
In theaters March 27th.