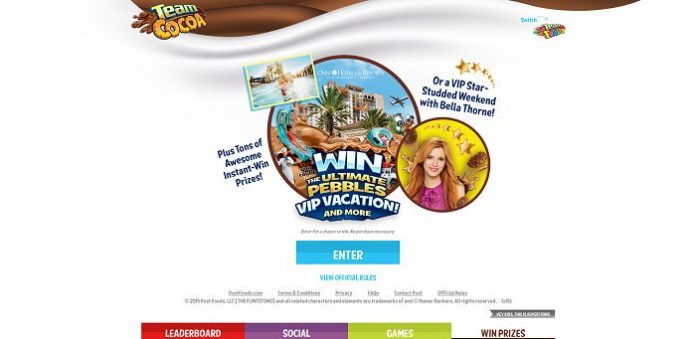 From an Orlando VIP family vacation to a VIP Star-Studded Weekend or thousands of other instant win prizes including Electric scooters, GoPro cameras, gift cards and more, Post Foods will be giving away over $207,000.00 worth of prizes in the Post Pebbles Passion Promotion!
Will you win a family vacation to Orlando, Florida? Will you be sent on a VIP Star-Studded Weekend with either Shaq or Bella Thorne? You'll have to enter first and choose between #TeamCocoa Or #TeamFruity! Make your choice and enter today at TeamPebbles.com!
Obtain A Code
In order to enter the Post Pebbles Passion Promotion, you'll need to obtain a code. Purchase new specially-marked Team Pebbles products, available nationwide beginning April 2015, and look for a code inside the package.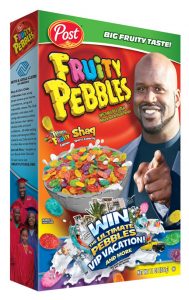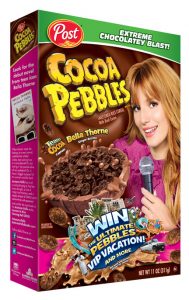 You may also request one for free by mail. Simply hand print your first and last name, address, city, state, zip, phone number, email address and date of birth on a 3″ x 5″ card and mail it to: Post Pebbles Passion Promotion Code Request, P.O. Box 760010, El Paso, TX, 88576-0010.
Each code may be used only once to play so get as many codes as you can. The more codes you obtain, the more chances you have to win!
Enter The Post Pebbles Passion Promotion
Once you obtain a code, visit TeamPebbles.com and hit the "Enter" button to get started. Fill out the entry form including your choice of team prize and your unique code then, hit the "Enter" button again to see if you're an instant winner.
Each code entered will result in one (1) Play and one (1) entry into the Grand Prize Drawing. Each code may be used to play only once and you are limited to a maximum of one (1) play per day throughout the Promotion Period. All codes must be entered before 11:59:59 a.m. EDT on September 30, 2015.
Prizing Details
Each of the eight (8) grand prize winners shall win a family trip (up to four people) to Orlando, Florida including round-trip first class airfare, hotel accommodations for four (4) nights in a Pebbles VIP suite, Personal chef, limo service, photographer, $2,000 in spending money and more! Each grand prize trip is valued at $20,000!
Post Foods will also award thousands of instant win prizes during the Promotion Period, as detailed below:
Ten (2) VIP Star-Studded Weekends (airfare, hotel accommodations, rental car, meet and great with either Shaquille O'Neal or Bella Thorne  and $250 in spending money included).
Ten (10) basketballs or abasketball jerseys signed by Shaquille O'Neal.
Ten (10) autographed copies of the book Autumn Falls signed by Bella Thorne.
Twenty (20) electric scooters with Helmet.
Twenty (20) GoPro HERO Cameras.
Eighty (80) branded beanbag chairs.
Fifty (50) Disco Light CDG Karaoke Systems.
Eighty (80) branded lap desks.
Eighty (80) branded set of dancing water speakers.
Four Hundred (400) music download gift cards.
Eight hundred (800) branded water bottles.
Eligibility
Participate into the Post Pebbles Passion Promotion is open only to legal residents of the 50 United States and D.C. who are at least six (6) years of age, but not older than eighteen (18) years of age at the time of participation.