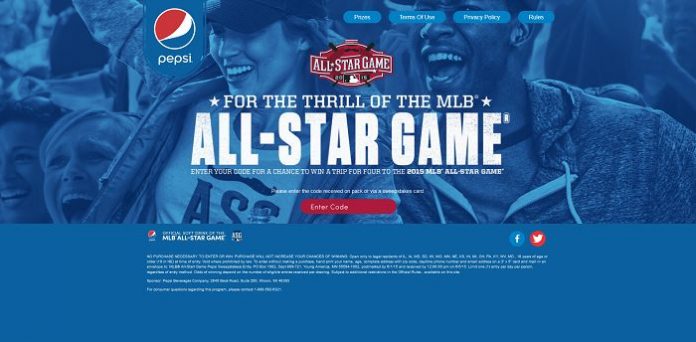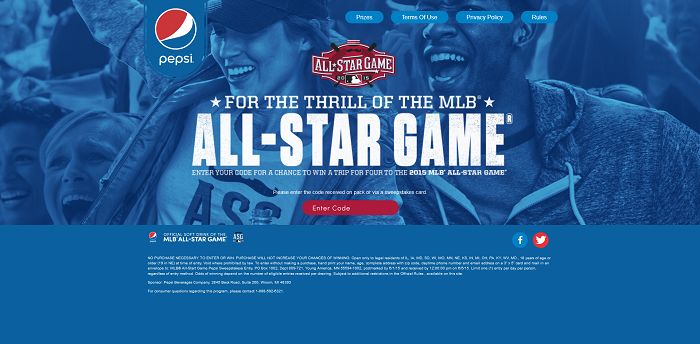 Hey baseball fans! Pepsi, the official soft drink of the MLB All-Star Game, brings you the chance to win a trip to the 86th MLB All-Star Game taking place July 12-14, 2015 at the Great American Ball Park in Cincinnati, OH!
Look for codes found on specially-marked Pepsi, Pepsi Wild Cherry, Diet Pepsi and Diet Wild Cherry Pepsi 16.9 oz. 6-packs and 16.9 oz. 8-packs or obtain a Sweepstakes Card when you purchase any Pepsi-Cola product at participating locations and enter online at pepsithrill.com for your chance to win! You'll be required to register for the Sweepstakes by providing all requested information as directed, including the code you found on pack or via your Sweepstakes Card. Each code submission will result in one (1) entry into the Sweepstakes, limited to a maximum of one (1) code/entry per day throughout the Sweepstakes Period.
Need a way to participate without a purchase? Hand write your first name, last name, age, mailing address, phone number(s) and email address on a 3″ x 5″ piece of paper and mail it to MLB All-Star Game Pepsi Sweepstakes Entry, PO Box 1002, Dept 889-721, Young America, MN 55594-1002, postmarked by June 1, 2015 and received by 12:00:00 p.m. (noon) on June 5, 2015. This entry method is also limited to a maximum of one (1) entry per day.
All entries must be completed and received between 12:00:00 p.m. ET on April 13, 2015 and e11:59:59 p.m. ET on June 1, 2015 to be eligible for the drawing that will be held on or about June 5, 2015.
Pepsi will send three (3) lucky baseball fans to the 2015 MLB All-Star Game July 12 – July 14, 2015 in Cincinnati, OH. Each trip, valued at $3,750, includes airfare and hotel accommodations for four (4) plus four (4) tickets to each of the following events: T-Mobile All-Star FanFest, All-Star Sunday, Gatorade All-Star Workout Day and MLB All-Star Game.
Three hundred (300) other winners will each receive one of the following prizes:
One (1) $100 MLB.com/Shop gift card (100 prize winners)
One (1) $50 MLB.com/Shop gift card (200 prize winners)
The MLB All-Star Game Sweepstakes Presented By Pepsi is open only to individuals who are 18 years of age or older at the time of entry and who are legal residents of the following eligible states: Illinois, Iowa, North Dakota, South Dakota, Wisconsin, Missouri, Minnesota, Nebraska, Kansas, Indiana, Michigan, Ohio, Pennsylvania, Kentucky, West Virginia, or Maryland.