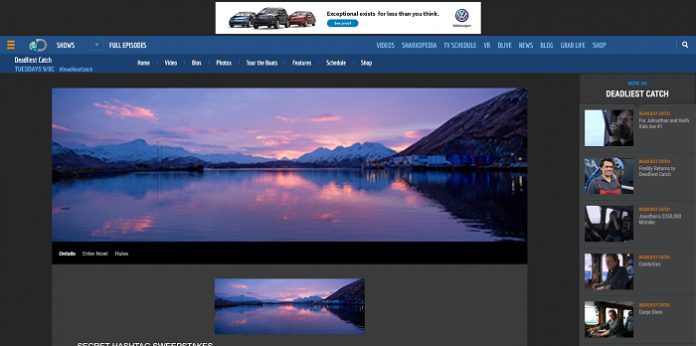 Hey Deadliest Catch fans! Got the Secret Hashtag during Deadliest Catch? Enter it at Discovery.com/SecretHashtag and you could win the Deadliest Catch Sweepstakes 2016. Discovery could send you and a guest to Dutch Harbor, Alaska to meet Deadliest Catch's captains. Plus, you could win Deadliest Catch merchandise weekly all season long.
How To Enter At Discovery.com/SecretHashtag
The Deadliest Catch Secret Hashtag Sweepstakes, which consists of 18 Weekly Entry Periods, started on March 29, 2016 and is set to conclude on August 3, 2016. Each Weekly Entry Period starts at 9:00 PM ET and ends at 2:00 am ET on the following next day, as follows.
Between March 29 and March 30, 2016.
Between April 5 and April 6, 2016.
Between April 12 and April 13, 2016.
Between April 19 and April 20, 2016.
Between April 26 and April 27, 2016.
Between May 3 and May 4, 2016.
Between May 10 and May 11, 2016.
Between May 17 and May 18, 2016.
Between May 24 and May 25, 2016.
Between May 31 and June 1, 2016.
Between June 7 and June 8, 2016.
Between June 14 and June 15, 2016.
Between June 21 and June 22, 2016.
Between July 5 and July 6, 2016.
Between July 12 and July 13, 2016.
Between July 19 and July 20, 2016.
Between July 26 and July 27, 2016.
Between August 2 and August 3, 2016.
During the Promotion Period, follow @CatchSnaps on Snapchat then tune in to Discovery Channel to watch Deadliest Catch every Tuesdays starting at 9/8c. Visit @CatchSnaps on Snapchat when you see the message during the airing of the show to discover that week's Secret Hashtag.
Once you took note of the Secret Hashtag, go online to discovery.com/SecretHashtag and complete the official entry form as directed, including the applicable Secret Hashtag, to receive one entry into the applicable Entry Period.
You can only one (1) entry per secret hashtag, per week so be sure to enter every week for a new chance to win that week's prize or the Grand Prize trip.
Deadliest Catch Secret Hashtags
Every Tuesday, starting at 9/8C, a new Deadliest Catch Secret Hashtag will be unveiled on Snapchat during the show. Take note of this hashtag, or check back here, and use it to enter the Sweepstakes.
Week #2 (April 5): #FeelTheColburn
Week #3 (April 12): #KingsChaos
Week #4 (April 19): #HansensHassles
Week #5 (April 26):
Week #6 (May 3):
Week #7 (May 10):
Week #8 (May 17):
Week #9 (May 24):
Week #10 (May 31):
Week #11 (June 7):
Week #12 (June 14):
Week #13 (June 21):
Week #14 (July 5):
Week #15 (July 12):
Week #16 (July 19):
Week #17 (July 26):
Week #18 (August 2):
Prizing Details
The Grand Prize consists of a three day, two night trip for 2 to Dutch Harbor, Alaska including the opportunity to meet one or more Deadliest Catch captain on October 20, 2016.  The grand prize includes round trip coach airfare for 2, hotel accommodations for 2 nights, $500 spending and more.
Eighteen (18) Weekly Prize Winners, one (1) per week, will receive Deadliest Catch merchandise such as mugs, t-shirts, DVDs, books, posters or hats.
Eligibility
To be eligible to enter or win, entrants must:
be a legal residents of the 50 United States or the District of Columbia;
be at least 18 years of age;
have a computer with Internet access or mobile device that can access the Internet;
have a Snapchat account.