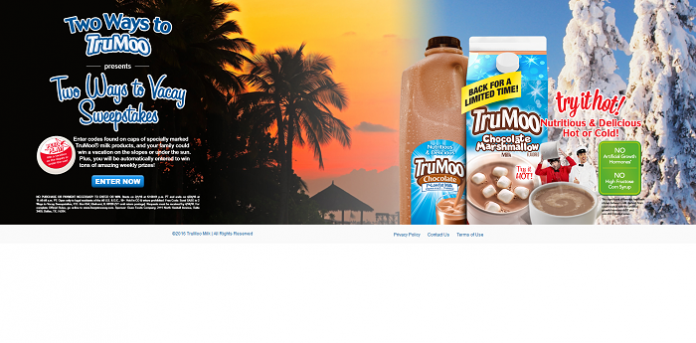 Trumoo Milk's 2WaystoVacay Sweepstakes is offering you two ways to vacay when you enter your codes online at 2WaysToVacay.com between February 1 and April 24, 2016.
For your chance to win, enter 2WaysToVacay codes found on caps of specially marked TruMoo and you could win a family trip on the slopes or under the sun. Your choice! Plus, you could instantly win new winter or summer gear every week.
Obtain A 2WaysToVacay Code
During the Promotion Period, look for "Peel to Play" stickers on caps on specially-marked TruMoo products available at participating retail stores. Gently peel the sticker to reveal a unique code printed on it.

You can also obtain a free TruMoo code without making a purchase by mailing a self-addressed stamped envelope to: "2 Ways to Vacay Sweepstakes", P.O. Box 654 Elmhurst, IL 60126.
Enter Codes At 2WaysToVacay.com
Once you obtained a Trumoo code, you must visit 2waystovacay.com to access the TruMoo 2 Ways to Vacay Sweepstakes entry form and register for the Promotion. In order to register, you'll be required to enter your code along with all requested information, as instructed.
Each valid code will earn you one entry into the applicable Weekly Entry Period and one entry into the applicable Grand Prize Drawing.
Please note that each code is unique and may be used only once. There is a limit of five entries per participant, per day throughout the Promotion Period.
Entry Periods
The TruMoo 2WaystoVacay Sweepstakes runs from Monday, February 1, 2016 at 12:00:01 p.m. PT through Sunday, April 24, 2016 at 11:59:59 a.m. PT and consists of 10 weekly entry periods and 2 grand prize drawing periods, as detailed below.
Weekly Entry Periods:
From February 1, 2016 through February 8, 2016
From February 9, 2016 through February 16, 2016
From February 17, 2016 through February 24, 2016
From February 25, 2016 through March 3, 2016
From March 4, 2016 through March 13, 2016
From March 14, 2016 through March 22, 2016
From March 23, 2016 through March 31, 2016
From April 1, 2016 through April 8, 2016
From April 9, 2016 through April 17, 2016
From April 18, 2016 through April 24, 2016
Grand Prize Drawing Periods:
From February 1, 2016 through March 13, 2016
From From March 14, 2016 through April 14, 2016
Two Ways To Vacay Prizes
Each of the two Grand Prize Winner will receive a $10,000 family vacation trip to a destination of their choice including round trip coach class airfare, hotel accommodations and more.
Ten (10) Weekly Prizes (one per Entry Period):
Week 1: Designer Sunglasses for a family of four
Week 2: Winter and Summer outdoor gear for the family
Week 3: Bikes/Scooter
Week 4: Movie Night Package
Week 5: Grillout Package
Week 6: Board Games for Family Night
Week 7: Premium sneakers or running shoes for a family of four
Week 8: Family Camping Night Package
Week 9: High end Yoga/Workout Gear and membership to workout classes or gym
Week 10: Home Entertainment Center
Eligibility
The TruMoo 2WaysToVacay Sweepstakes is open to legal residents of the 50 United States (excluding Colorado) and the District of Columbia who are 18 years of age or older at the time of entry.