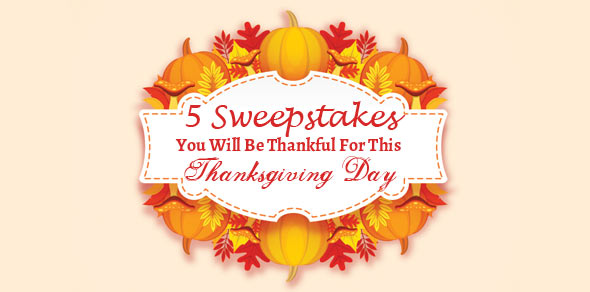 Thanksgiving is certainly the best day to be thankful for all we're given every day. And this year, you've been given a lot of chances to win incredible prizes with so many great Sweepstakes. Thanksgiving is no exception so let's find out what are the 5 Sweepstakes you'll be thankful for this Thanksgiving Day!
Food Network Ultimate Thanksgiving Essentials Sweepstakes
Are you ready for Thanksgiving? If not, Food Network can help you! Enter the Ultimate Thanksgiving Essentials Sweepstakes and you could win $3,000 plus the Ultimate Thanksgiving Essentials toolkit from the Food Network Store.
Radio Disney Thanksgiving Giveback Sweepstakes
In the spirit of giving, Radio Disney is offering one lucky listener the chance to flyaway to Los Angeles to donate $5,000 to Feeding America on behalf of Radio Disney! And as a special thank you, you'll also get the opportunity to meet and greet with Sofia Carson plus, you'll get $500 for yourself!
Macy's Thanksgiving Day Parade Sweepstakes
Want to attend the 90th edition of the Macy's Thanksgiving Day Parade in NYC? Here's your chance! Macy's could send you and your family to New York City (airline and hotel accommodations at the Manhattan NYC, an Affinia Hotel, included) for the Macy's 2016 Thanksgiving Day Parade! Hurry up, the Sweepstakes ends at 11:59 p.m. ET on November 26, 2015!
Price Chopper Holiday Gift Card Sweepstakes
'Tis the season for festive savings and to be thankful at Price Chopper! Now through November 28th, tell what you are most thankful for and you'll entered to win a shopping spree at your favorite retailers! Four winners will each receive $1,000 in national retailer gift cards sold at Price Chopper, Market 32 and Market Bistro.
Avocados From Mexico Macy's Thanksgiving Day Parade Sweepstakes
Avocados From Mexico are on a trip and they need your help to get there. They are going from Michoacan, Mexico to New York City for the Macy's Thanksgiving Day Parade. Tweet with hashtags #AvosToNYC and #MacysParade so their AvoFloat can keep moving. So this is the deal: You tweet, they move! See the trip on AvoTracker.com and you could win from $15,000 in prizes.