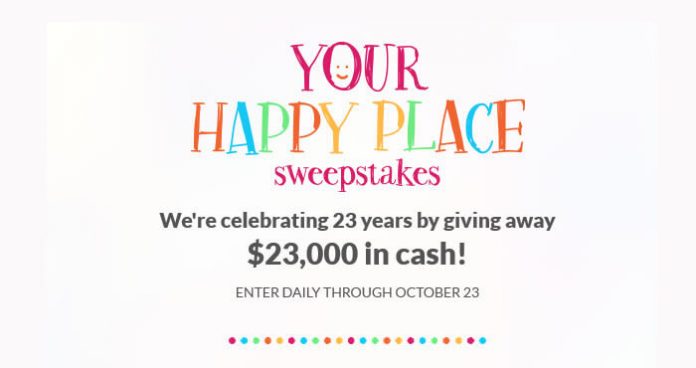 JTV is celebrating 23 years and they are very happy about it. You are invited to celebrate too by participating into the Your Happy Place Sweepstakes 2016 at JTV.com/Happy.
Join the fun now though October 23rd and you could be the lucky winner of a check in the amount of $10,000! Plus, you could win other cash prizes ranging between $3,000 and $5,000.
Not enough? What about Weekly $250 JTV Shopping Sprees? Yes, there are even more happy winnings to celebrate the best birthday this year!
Your Happiness Starts At JTV.com/Happy
Want to join the fun for a chance to win from $23,000 in prizes? It's simple! During the Sweepstakes Period, visit the Promotional Website at JTV.com/happy. Then, register for the Sweepstakes by completing and submitting the online entry form provided on the Website. Just like any other great Sweepstakes, you are required to provide all requested information.
Once completed, you will be automatically entered for both the Grand Prize and Runner Up Prize drawings. Also, you will be offered the opportunity to enter for a chance to win a $250 JTV Shopping Spree.
To enter, click the "Enter Now" button displayed onscreen then, complete the following four steps below:
Pick an image of your favorite jewelry provided on the site.
Input your email address.
Click the "Submit And Pin" button.
Pin the jewelry image on Pinterest.
As a result, you will get a chance at the weekly prize.
Win Cash
Grand Prize: $10,000 cash
First Runner Up: $5,000 cash
Second Runner Up: $5,000 cash
Third Runner Up: $3,000 cash
JTV Your Happy Place Sweepstakes 2016 Details
The JTV Your Happy Place Sweepstakes 2016 is open only to legal residents of the 50 U.S. and D.C., who are 21 years of age or older at the time of entry. Entries must be received between September 6, 2016 and October 23, 2016 to be eligible. A maximum of one entry per participant per day is permitted during the Sweepstakes Period. However, each participant may earn a maximum of one Weekly Prize entry per Weekly Prize Sweepstakes Period.
For more information on the JTV Your Happy Place Sweepstakes 2016, including official rules, visit www.JTV.com/Happy now!