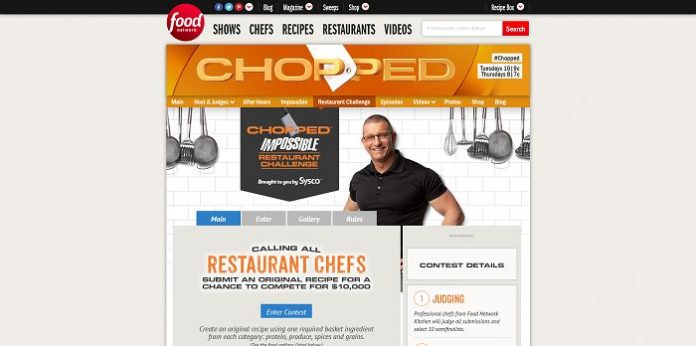 Hey restaurant chefs! The leader in foodservice distribution Sysco and Food Network's Chopped are partnering up to test chefs across the country! Are you ready to take the Chopped: Impossible Restaurant Challenge? Show off your cooking skills at FoodNetwork.com/RestaurantChallenge and submit your best recipe using four mystery basket ingredients for a chance to compete for $10,000! If your recipe makes it to the Top Four, you'll be sent to NYC where you'll meet Chef Robert Irvine, host of Food Network's Restaurant: Impossible, and compete against three other chefs.
Submit An Original Recipe
During the Promotion Period, commencing on Thursday, October 15, 2015 and ending on Thursday, November 12, 2015, submit an original recipe using four required basket ingredients (protein, produce, spices and grains) and snap a photo of it. Then, visit FoodNetwork.com/RestaurantChallenge and enter Food Network's Chopped: Impossible Restaurant Challenge by submitting your recipe. As part of the process, you'll be required to register by providing all required information including a recipe title, a recipe description, the full ingredient list and directions, as well as the photo of your dish. Each valid submission will result in an entry into the Promotion, limited to a maximum of one (1) recipe/submission per day throughout the Promotion Period.
Please note that this Promotion is NOT open to the general public. It's open only to legal residents of the 50 United States and D.C., who are 21 years of age or older and who are food service professionals as of the Promotion start date.
Compete To Win $10,000
At the end of the Challenge, four (4) Finalists (the ones who received the most votes during the Public Voting) will travel to New York City (airfare and hotel accommodations included) where they will compete in a Chopped-style cooking competition in a Food Network studio. The Grand Prize Winner will receive $10,000 cash, awarded in the form of a check.
Good luck, chefs!