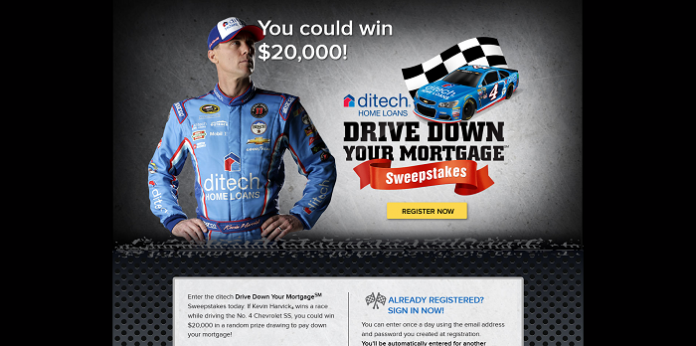 To celebrate the launch of the 2016 NASCAR Season, home loan company Ditech is running the Drive Down Your Mortgage Promotion at ditechdrivedownyourmortgage.com where fans can win $20,000 every time Kevin Harvick, driver of the No. 4 Jimmy John's Chevrolet SS, wins a race during the NASCAR season.
But wait, there's more. You could also win Kevin Harvick merchandise or Fanatic Gift Codes instantly just by playing daily at ditechdrivedownyourmortgage.com. Ditech will potentially give away over $750,000 during the Promotion running between February 19 and November 21, 2016. Don't miss out and register today for your chance to win.
How To Enter The Ditech Drive Down Your Mortgage Promotion
Beginning on February 19, 2016, NASCAR fans are invited to register for the promotion by visiting the promotional website available online at ditechdrivedownyourmortgage.com. Each entrant will be required to provide their first name, last name, email address, birth date, phone number, complete mailing address, zip code and create a password prior to registering.
After completing the registration form, each participant will receive one entry into the applicable random drawing. To earn additional sweepstakes entries, entrants must subsequently log into the promotional website daily during the Promotion Period.
Participants will also be offered the chance to win a prize instantly by play the Instant Win Game consisting of a Scratch Off Game. To play, participants must scratch off the area with their mouse to find out if they won a prize.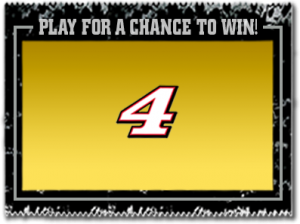 The Promotion consists of both a Sweepstakes and an Instant Win Game both beginning at 12:00:00 a.m. ET on Friday, February 19, 2016 and ending at 11:59:59 p.m. ET on Monday, November 21, 2016. There is a limit of one (1) game play and one (1) sweepstakes entry per participant throughout the Promotion Period.
2016 NASCAR Schedule
Tune in to any of the following thirty-seven NASCAR Race to find out if Kevin Harvick win:
February 21: Daytona International Speedway (Harvick finishes fourth in 58th Daytona 500)
February 28: Atlanta Motor Speedway
March 6: Las Vegas Motor Speedway
March 13: Phoenix International Raceway
March 20: Auto Club Speedway (Fontana, CA)
April 3: Martinsville Speedway
April 9: Texas Motor Speedway
April 17: Bristol Motor Speedway
April 24: Richmond International Raceway
May 1: Talladega Superspeedway
May 7: Kansas Speedway
May 15: Dover International Speedway
May 21: All-Star Race (Charlotte Motor Speedway)
May 29: Charlotte Motor Speedway
June 5: Pocono Raceway
June 12: Michigan International Speedway
June 26: Sonoma Raceway
July 2: Daytona International Speedway
July 9: Kentucky Speedway
July 17: New Hampshire Motor Speedway
July 24: Indianapolis Motor Speedway
July 31: Pocono Raceway
August 7: Watkins Glen International
August 20: Bristol Motor Speedway
August 28: Michigan International Speedway
September 4: Darlington Raceway
September 10: Richmond International Raceway
September 18: Chicagoland Speedway
September 25: New Hampshire Motor Speedway
October 2: Dover International Speedway
October 8: Charlotte Motor Speedway
October 16: Kansas Speedway
October 23: Talladega Superspeedway
October 30: Martinsville Speedway
November 6: Texas Motor Speedway
November 13: Phoenix International Speedway
November 20: Homestead –Miami Speedway
Promotion Prizes
Thirty-Seven (37) Potential Sweepstakes Prizes (one per per Race): $20,000 cash, awarded in the form of a check. The prize will be awarded if and only if, Kevin Harvick is the officially declared winner of the race.
Seven thousand and two (7,002) Instant Win Game Prizes:
Kevin Harvick 1:24 die cast (12 prizes)
$20 Fanatic Gift Code (500 prizes)
Kevin Harvick Hero Card and Key Chain (1,500 prizes)
Kevin Harvick Hero Card and Car Magnet (1,650 prizes)
Kevin Harvick Hero Card and Coozie (3,340 prizes)
Eligibility
The Ditech Drive Down Your Mortgage Promotion is only open to legal residents of the fifty (50) United States and the District of Columbia, who are 18 years of age or older at time of entry (19 or older if a resident of Alabama or Nebraska).