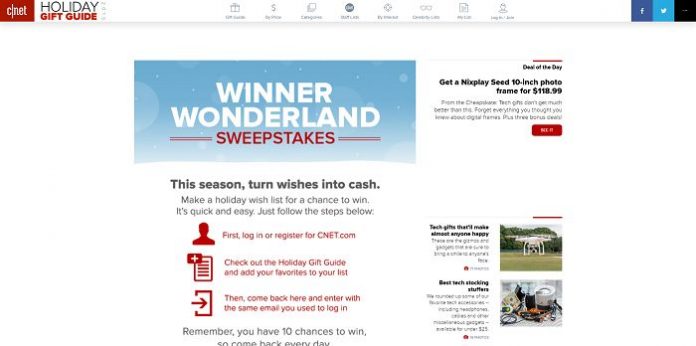 Have you made your holiday wish list, yet? This holiday season, CNET is not only bringing one of the best Holiday Gift Guide for tech gifts but they are also offering you the chance to win daily cash prize if you use it to make your list.


Create A Holiday Wish List To Win
Entering the CNET Winter Wonderland Sweepstakes is quick and easy. During the Promotion Period, just follow the steps below:
Entries will be accepted between December 3 and December 16, on weekdays only.  Offered and open to persons who are legal residents of one (1) of the United States, Puerto Rico, or Canada (excluding Quebec) and who are at least 18 years old or age of majority, whichever is older in their state of residence or province, at the date of entry in this Sweepstakes. Must agree to sign up for CNET and agree to receive the CNET Insider Newsletter to be eligible to win.
10 Days Of Prizes
Each day, CNET will randomly select a new winner who will receive one of the following 10 prizes:
December 3: $50.00
December 4: $75.00
December 7: $125.00
December 8: $150.00
December 9: $250.00
December 10: $350.00
December 11: $450.00
December 14: $550.00
December 15: $1000.00
December 16: $2,000.00
Remember, you have 10 chances to win, so return and enter every day!