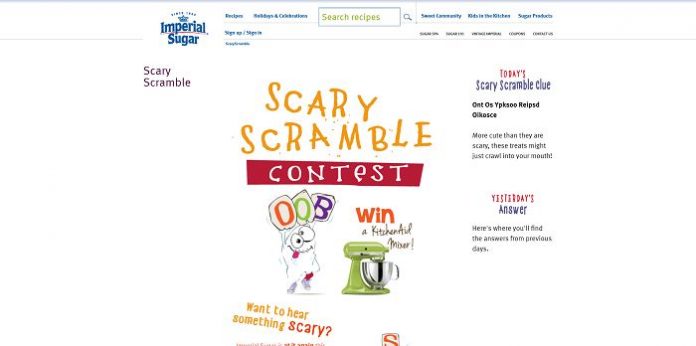 Sugar producer Imperial Sugar is at it again this Halloween! You loved it so much that the Scary Scramble Contest is back! From October 4 to October 17, they will post a spooky scrambled-up recipe and clue each day at ImperialSugar.com/ScaryScramble or on social medias such as Twitter, Facebook and Instagram. Just unscramble the recipe name and enter! You could be 1 of 10 winners to receive a KitchenAid mixer!
How It Works
Each day between October 4 and October 17, check out Imperial Sugar's website or social media pages for a different scrambled recipe title clue. Look for the correct recipe on their website to help you unscramble the title.
Once you find the correct recipe, enter the URL and complete the registration form as instructed to be automatically entered into the Imperial Sugar Scary Scramble Contest!
Rules to remember:
You may enter one contest – either Imperial's or Dixie's, but not both.
No more than one entry per person per day is allowed.
This Contest is open only to legal residents in the fifty (50) United States and the District of Columbia (except residents of the state of Rhode Island), who are at least eighteen (18) years old.