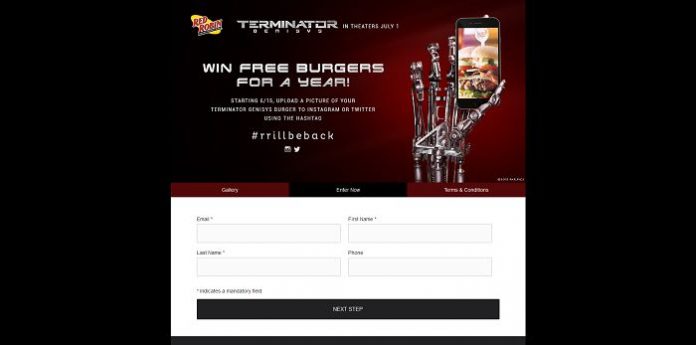 On July 1st, Terminator Genisys, starring Arnold Schwarzenegger, will open in theaters. Are you ready? If not, prepare for the judgement day of burgers with a jalapeno-cornmeal bun, jalapeno aioli and fiery roasted jalapenos with Pepper-Jack cheese, bacon, tomatoes, romaine lettuce and avocado! It's the new Terminator Genisys Burger, available for a limited time, only at Red Robin!
And starting today, Red Robin invites you to snap a picture of this burger and upload it to Instagram or Twitter using #RRillbeback for a chance to win a year's worth of Red Robin's YUMMM food and beverages, awarded in the form of twelve (12) $25 Gift Cards!
Snap. Upload. Win!
Commencing on June 15th, purchase a Genisys Burger at any participating Red Robin location and take a picture of the burger. Then, share the picture on Twitter or Instagram including the hashtag #RRillbeback to be entered into the Contest. Each valid submission will result in one (1) entry into the Contest, limited to a maximum of three (3) entries per day during the Contest Period.
Please note that all contest entries must be received by no later than 11:59:59PM MDT on July 12, 2015 to be eligible. All entries will be judged based on Creativity (30%), Originality (30%), and Relevance to Theme (40%).
Want to see what other contestants submitted so far?
Red Robin's Terminator Genisys Burger Contest is open only to legal residents of the fifty (50) United States or the District of Columbia, who are eighteen (18) years of age or older at the time of entry.