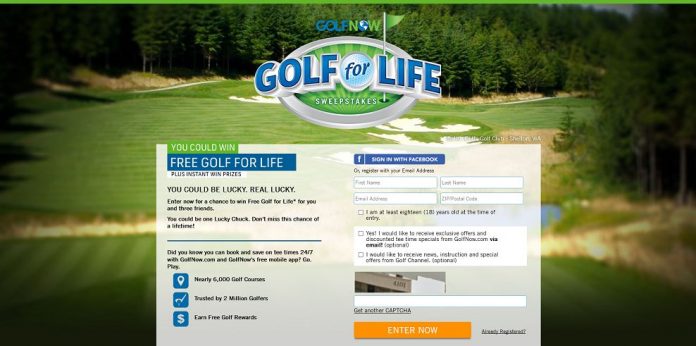 Last Monday, Quicken Loans launched the Hole-In-One Sweepstakes and will be giving away a year's worth of mortgage payments every time there's a hole-in-one in a PGA TOUR tournament game in 2015. Today, GolfNow has announced another golf-related sweepstakes – the GolfNow's Free Golf For Life Sweepstakes!
By entering this sweepstakes, one lucky golfer could win free golf for life! That's a foursome per month, twelve time per year, for 30 years! This is a dream come true for every golf lover! Think about it, you could play golf with three of your friends for free… for the rest of your life!
Think it's a joke? Too good to be true? Have a sneak peek at the national spot that will start airing on Sunday, February 1st below.
The sweepstakes has already started so get things started and visit golfnow.com/freegolf today for your chance to win!
You Could Be One Lucky Chuck
Access the sweepstake entry form by visiting either golfnow.com/freegolf or GolfNow.com/GolfForLife. Then, register by providing all requested information to be entered into the sweepstakes. Once registered, you'll be invited to hit a SPIN button to see if your golf ball earns you an instant win prize such as a promo code from GolfNow good for a free round of golf.
Play again daily through April 13, 2015 and earn more entries by spreading the word about the sweepstakes via Twitter or by visit the App Store or Google Play Store to check the GolfNow mobile app.
All entries must be completed and received by 11:59 p.m. ET on April 13, 2015 to be eligible for the grand prize drawing.
Prizing Details
One lucky golfer shall win free golf for life, awarded in the form of up to $160 in greens fees per round of golf, twelve (12) times per year, for thirty (30) years.
Two hundred instant win prize winner will receive one of the following prize:
One (1) GolfNow "Free Round Of Golf" promo code (25 prizes)
One (1) GolfNow "Buy One Round Of Golf, Get One Free" promo code (50 prizes)
One (1) GolfNow "25% Off One Round Of Golf" promo code (125 prizes)
Eligibility
GolfNow's Free Golf For Life Sweepstakes is open only to legal residents of the fifty (50) United States and District of Columbia and Canada (excluding Quebec) who are at least eighteen (18) years old at the time of entry.