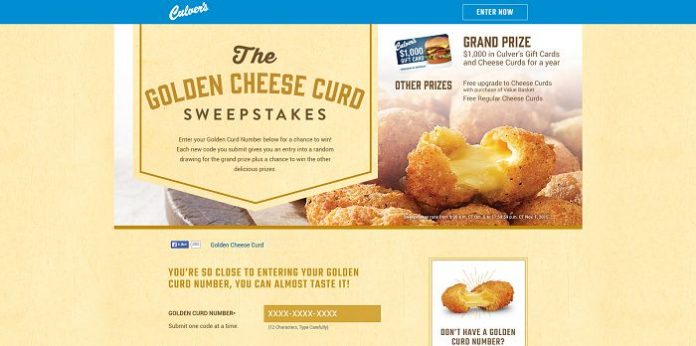 Did you know that October 15th is National Cheese Curd Day? Well, Culver's said so and to celebrate this new national day, they launched the Golden Cheese Curd Sweepstakes, a promotion where you could win $1,000 worth of Culver's gift cards and free orders of Cheese Curds for an entire year! Plus, you could also win other delicious prizes.
There's only one way to win this Sweepstakes and you have to visit your local Culver's between October 5th and November 1st to find out! Or simply read one for the details!
Get A Golden Curd Number To Win
In order to enter the Culver's Golden Cheese Curd Sweepstakes online at GoldenCheeseCurd.com, you'll need a Golden Curd Number.
Starting on Oct. 5, visit any participating Culver's restaurants and order Wisconsin Cheese Curds. Once you purchase your cheese curds, you'll receive a Golden Ticket with a special Golden Curd Number, a 12 alpha-numerical code, printed on it. Alternatively, you may also request a free number/code by sending a self-addressed stamped envelope to Culver's Golden Cheese Curd Sweepstakes, 1240 Water St, Prairie Du Sac, WI 53578.
Once you obtained your Golden Curd Number, go online to GoldenCheeseCurd.com to submit it. You'll be required to type in your number and register for the Sweepstakes by providing all requested information such as your:
first name;
last name;
email address;
complete mailing address.
Upon completion of the entry form, simply click the "Submit Entry" button to receive one (1) Sweepstakes Entry for that day. You may submit up to fifteen (15) codes per day for a maximum of fifteen (15) Sweepstakes Entries per day throughout the Promotion Period.
All codes must be submitted and received by no later than 11:59:59 p.m. CST on November 1, 2015 to be eligible for the Grand Prize. For your chance to win, you must be a legal U.S. residents residing in the state of AZ, CO, FL, ID, IL, IN, IA, KS, KY, MI, MN, MO, NE, ND, OH, SC, SD, TN, TX, UT, WI or WY throughout the Sweepstakes Period and you must be eighteen (18) years of age or older (19 in NE) at the time of entry.