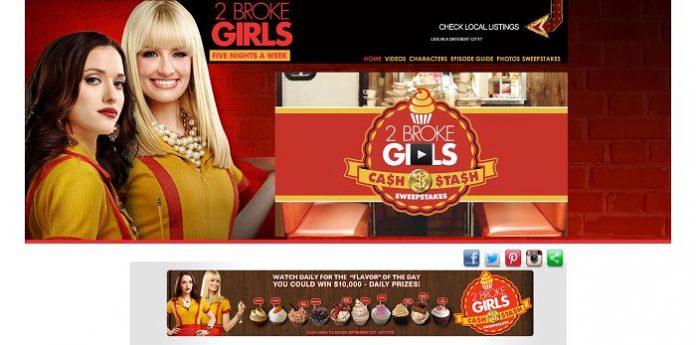 All this week, it's the 2 Broke Girls Cash Stash Sweepstakes at 2BrokeGirlsWeeknights.com! You could win the cash stash total, ranging from 2.50 to $2,420 in value, revealed at the end of each episode of 2 Broke Girls! Plus, you'll be automatically entered for a chance to win the $10,000 grand prize!
SEE ALSO: 2 Broke Girls How To Be Single Sweepstakes
To enter, watch 2 Broke Girls five nights a week for the Cupcake Flavor Of The Day and text that flavor to 76622 or go online to 2BrokeGirlsWeeknights.com!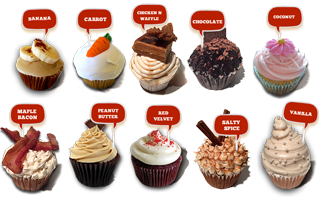 Cupcake Flavor Of The Day
Can't watch 2 Broke Girls? Come back here daily for the new Cupcake Flavor Of The Day!
October 9: CHOCOLATE
October 8: RED VELVET
October 7: CARROT
October 6: MAPLE BACON
October 5: VANILLA
October 2: CHICKEN N WAFFLE
October 1: RED VELVET
September 30: BANANA
September 29: PEANUT BUTTER
September 28: SALTY SPICE
September 25: CHOCOLATE
September 24: COCONUT
September 23: CARROT
September 22: MAPLE BACON
Here's How To Enter The 2 Broke Girls Cash Stash Sweepstakes
The 2 Broke Girls Cash Stash Sweepstakes started on Monday, September 21st and will be running through Friday, October 9, 2015. During the Promotion Period, watch 2 Broke Girls and look for the Cupcake Flavor Of The Day" that will be revealed during the show.
Once you took note of the Cupcake Flavor, enter using one of the following two (2) ways below:
Online: Visit 2BrokeGirlsWeeknights.com and either click the "Sweepstakes" tab or the promotional banner displayed on the site to access the Sweepstakes Page. Click the correct Cupcake Flavor then complete and submit the entry form as instructed.
Text Message: Send a text message containing Cupcake Flavor to 76622 then follow the instructions to complete the entry.
Entries will be accepted on weekdays only and you have until 11:59:59 pm (PT) on each day to participate. Limited to a maximum of one (1) entry per day, on weekdays, through the Promotion Period. Open only to legal residents of the 50 United States and the District of Columbia or Puerto Rico who are eighteen (18) years of age or older.
Win The Cash Stash Total
Each day, for fifteen week days, two (2) daily winners will each receive the cash stash total featured on the applicable weekday episode of .2 Broke Girls. The prize will be awarded in the form of a check valued between $2.50 and $2,420.
At the end of the Promotion Period, one lucky Grand Prize Winner will win $10,000 in cash! One (1) Winner in the greater Chicago, IL area will also receive a $10,000 grand prize.
2 Broke Girls now airs locally twice a day, five times a week, so keep watching every day for the next Cupcake Flavor and a new chance to win!