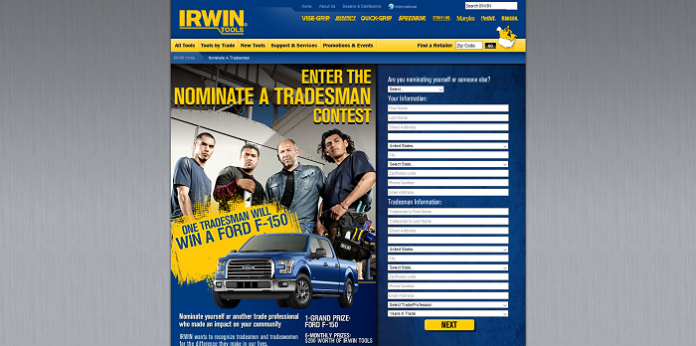 The Irwin Tools Ultimate Tradesman Contest is an annual promotion recognizing tradesmen and tradeswomen for the difference they make in our lives. This year, the contest will run between 12:00:01 a.m. ET on Friday, January 1, 2016 and 11:59:59 p.m. ET on Thursday, June 30, 2016.
Nominate yourself or another trade professional who made an impact on your community. One deserving trade professional will win a 2016 Ford F-150 truck during the 2016 National Tradesman Crowning on National Tradesmen Day in September 2016. Six monthly prize winners will receive $200 worth of Irwin Tools.
Nominate A Tradesman
During the Contest Entry Period, entrants must visit irwin.com/nominateatradesman to nominate a professional tradesman. Entrants may also nominate themselves if they are professional tradesmen. After completing the registration form, nominators will be required to write a short essay in 500 words or less about the nominated professional tradesman.
There is a limit of one nomination per person as nominator.
Prizes
Six (6) Finalist Prizes ($220 worth of Irwin Tools):
a 16" Contractor's Bag,
a 10" GrooveLock Straight Jaw,
a ProTouch Retractable Utility Knife,
a 3-piece SpeedBor Max,
a 2-piece Fast Release Lock Pliers,
a 15" UHS, a 6" Mini Clamp (2 pack),
a 7 ¼" Marathon with Weld Tec.
One (1) Grand Prize:
A 2016 Ford F-150 4×4 SuperCrew Cab Pickup truck,
$2,000 worth of of IRWIN Tools,
A trip for two to attend the 2016 National Tradesman Crowning taking place in September 2016 at IRWIN Tools North American Headquarters in Huntersville, NC in September 2016,
A check for USD $2,000.00.
Total ARV of all prizes is $57,580.00
Winners
To request a list of winner's names, available between August 31, 2016 and October 31, 2016, send a self-addressed, stamped envelope to "Ultimate Tradesman" Essay Contest Winners, P.O. Box 7276, Wilton CT 06897-7276.
Eligibility
The Irwin Tools Ultimate Tradesman Contest is open only to, and both the nominator and the nominee must be, individual, legal residents of Canada, one of the 50 United States or the District of Columbia who are 18 years of age and older (or over the age of majority in Canada).